The relationship between Blair and Serena, also known as B and S, is the relationship between series protagonists Blair Waldorf and Serena van der Woodsen.
Overview
Serena and Blair are the two core characters in Gossip Girl. They have been best friends since they were kids, which means that they have been friends before the "Pilot'. They refer to each other as S and B. Throughout the series, the two go through ups and downs. They have their moments where the two are "frenemies". But, in the end, Serena and Blair work it out.
Television series
Season 1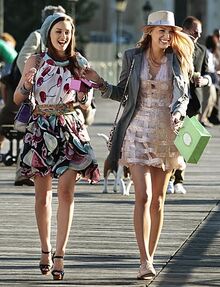 For the majority of the television adaption, the relationship between Blair and Serena remains complicated. Despite being occasional rivals, the two friends remain close. They go through constant rivalries and fights, which is one of the shows constant plot lines.
The show opens with Blair and Serena at odds when Blair finds out that Serena slept with Nate Archibald, Blair's boyfriend at the time and the two girls' mutual best friend. Throughout the series, no matter what has happened between them, they always find a way to be friends again.
In Season 5, Serena is jealous and angry at Blair because she started to date the love of her life, Dan. In the last few episodes in Season 5, Serena sends pages of Blair's diary to Gossip Girl, where Blair has written everything that has happened in her life. Gossip Girl begins posting her most recent diaries, painfully releasing each page at a time. This again causes another huge fight between the pair. Serena says she'll fix it, but only makes it worse. Blair goes as far as kicking Serena out from her house and asks her to leave her key with Dorota. Out of anger, Serena contacts Penelope and Kati, asking them to help her with a scheme. Under Serena's commands, Penelope tries to keep Blair at the Waldorf's apartment, but Blair escapes through Serena's room. Meanwhile, at the Shepards' Divorce party, Serena seduced Dan and tricked him into believing that Blair had chosen Chuck—which she had but Serena didn't know this at the time—leading to the two having sex on the bar, the same bar top Serena had taken the first love of Blair's life, Nate's, virginity. Dan saw a text from Kati, and In Season 6, Blair realizes that she may have hurt Serena by kicking her out and is trying to find Serena because she has been missing all summer. When the gang finds her, she's happily dating a man named Steven. Blair is trying to apologize to Serena but she's not interested. Later in the Season 6, Serena and Blair find a way to forgive everything and start to be friends again.
History and Memories
When they were 10 years old, they used to dance to the song " Genie in a bottle", by Christina Aguilera, while wearing Eleanor's clothes.
Traditions
Every Sunday morning they have croissants and cappuccinos together while watching "Breakfast at Tiffany's".
Ad blocker interference detected!
Wikia is a free-to-use site that makes money from advertising. We have a modified experience for viewers using ad blockers

Wikia is not accessible if you've made further modifications. Remove the custom ad blocker rule(s) and the page will load as expected.