Blair Waldorf
General information
Full name
Blair Cornelia Bass (née Waldorf)
Nickname(s)
B, Queen B, Waldorf, Princess B
Birthplace
Manhattan, New York City, NY
Birthday
November 17, 1990
Occupation
Student at
(at Constance; graduated)
College student
(at NYU; ambiguous)
(at Columbia University; ambiguous)
Fashion designer
(at Waldorf Designs)
Socialite and philanthropist
Relationships
Family
Chuck Bass
(husband, December 2nd, 2012 - Present, 1 child)
Henry Bass
(son, with Chuck)
Harold Waldorf
(father)
Eleanor Waldorf Rose
(mother)
Roman Garrel
(paternal step-father)
Cyrus Rose
(maternal step-father)
Aaron Rose
(maternal step-brother)
Bart Bass
(father-in-law; deceased)
Evelyn Bass
(mother-in-law)
Lily van der Woodsen
(adoptive mother-in-law)
Serena van der Woodsen-Humphrey
(adoptive sister-in-law)
Erik van der Woodsen
(adoptive brother-in-law)
Dan Humphrey
(adoptive brother-in-law, via Serena)
Jack Bass
(uncle-in-law)
CeCe Rhodes
(adoptive grandmother-in-law)
Carol Rhodes
(adoptive aunt-in-law)
Lola Rhodes
(adoptive cousin-in-law)

Romances
Chuck Bass (husband)
Nate Archibald
(first love; ex-boyfriend)
Jack Bass (fling)
Carter Baizen (one-night-stand)
Marcus Beaton-Rhodes (ex-boyfriend)
Louis Grimaldi (ex-husband)
Dan Humphrey (ex-boyfriend)
Friends
Chuck Bass
Dan Humphrey
Dorota Kishlovsky
Jenny Humphrey
Nate Archibald
Serena van der Woodsen
(Best Friend)
Enemies
Beatrice Grimaldi (Frenemies)
Juliet Sharp
Poppy Lifton
Rachel Carr
Vanessa Abrams
Georgina Sparks
Series information
Status
Alive
Portrayed by
Leighton Meester
First appearance
"Pilot"
Last appearance
"New York, I Love You XOXO"
Blair Cornelia Bass (née Waldorf) is a main character in the Gossip Girl novel series and the television adaption of the same name, in which she is portrayed by Leighton Meester.
Blair has ties to nearly every major player, including a friendship with Serena van der Woodsen, a rivalry with Georgina Sparks and later on Jenny Humphrey, and romances with Nate Archibald, Chuck Bass and Dan Humphrey. In the finale she gets married to Chuck Bass and has a son named Henry Bass
Blair is regarded as the Queen Bee of the Upper East Side and Constance Billard School for Girls.
She, Dan and Serena are the only characters that appear in every episode of the TV series Gossip Girl.
Background
Edit
Born to New York's elite, Blair is the queen bee of Manhattan's social scene. As a result, Blair's actions and relations are under constant scrutiny from the mysterious Gossip Girl, a popular blogger. Despite her status, Blair becomes dedicated to earning her academic achievements through hard work and occasionally connections, often proving that she can build a future without turning to her resources for assistance.
Throughout a good deal of the story, Blair feels a recurring sense of insecurity regarding her status. This tends to make her an overachiever at times, creating flaws and complexities in her character, leading to various matters that factor into her development as she overcomes them. One notable trait of Blair's is an apparent sense of superiority. However, it is suggested that this is mainly part of her attempt to maintain social prominence, as it often gives way to a more compassionate, good-natured personality within. On occasion, she is led to feel a sense of competition with her best friend Serena—the former Queen Bee known for her beauty. Ironically, among many observers, Blair may be more popular and beautiful than Serena, though Blair herself may be slow to realize this, constantly defending what needs no defense. Due to her dramatic irony and other complexities, the character is among the most critically acclaimed.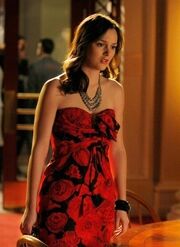 As the series progresses, Blair's major romantic interests include Nate Archibald, Chuck Bass and Dan Humphrey, three young men who she bonds with in largely different ways. However, whenever she encounters friction with them, she is not afraid to play dirty, scheme or lie to get what she wants. Blair was engaged to be married to Louis Grimaldi, the Prince of Monaco, who was the father of her child that was lost in a car accident that harmed both Blair and Chuck when she was planning to no longer marry Louis. Blair went on to marry Louis Grimaldi in January 2012, falsely believing that was the only way to save Chuck. After her marriage, she had a relationship with Dan, once Chuck paid her dowry. They dated about a month or two; however, Blair never told Dan she loved him. After receiving control of Waldorf designs in May 2012, she resumed her relationship with Chuck Bass. Blair Waldorf and Chuck Bass were united in marriage on December 2, 2012, at the Bethesada Fountain in Central Park, with her step father, Cyrus Rose, officiating. It is later revealed that Blair has a younger sister called Alexandra and is known by the surname Morgan. 
Novel series
Edit
Blair Waldorf was born into high society on Manhattan's exclusive Upper East Side. Her father, Harold, is a wealthy blue blood, corporate lawyer, while her mother, Eleanor, is an wealthy heiress to a multi-million dollar trust fund. She has a younger sibling named Tyler Waldorf. After her mother's marriage to Cyrus Rose, billionaire real estate developer, she gained a step sibling named Aaron Rose, an bohemian vegan, and a half-sister, Yale Rose. Blair's father lives in France with his partner, Giles. In France, Harold Waldorf and Giles run a successful vineyard, together. Blair attended Constance Billard School for Girls, fictional exclusive private school for wealthy trust fund babies on the Upper East Side. Blair is the textbook dictionary definition of overachiever with a over a million extra curricular activities. Blair was A+ student, top of her class. Blair was the chairwoman of the Social Board in her school. She was head of the French club. Blair was a nationally racked tennis player. Blair loved shoes. She was known to have hundreds of shoes inher collection. She was known to have the best of everything, hair styles, clothes, shoes, bags, even men. Blair grew up with "It-Girl" Serena van der Woodsen and long-time on and off boyfriend Nate Archibald. She is described to be 5'4" and slender, with brilliant blue eyes, brunette hair and a fox-like face. She was known to resemble Audrey Hepburn. Her two allies, after former best friend Serena left for her New Hampshire boarding school, are Kati Farkas and Isabel Coates. After high school, Blair went on to attend and graduate from Yale University with a Political Science degree with a conentration in Law.
Starting at a dinner party at the Waldorf Penthouse for future stepfather Cyrus Rose, former best friend Serena, described as the most gorgeous girl in all of New York City, returns from her boarding school Hanover Academy in Hanover, New Hampshire. Blair, from the start, doesn't want to give up her spotlight as being the "most happening" girl in the room just yet. She and boyfriend Nate who have dated for about a year are in the middle of a passionate scene when Serena shows up, and entertains all the guests with stories about her wild summer adventures and what it was like to be at boarding school, kicking Blair out of the spotlight again.Blair starts nasty rumors about Serena and turns her into a school outcast. Eventually, Blair finds out that her boyfriend Nate Archibald had sex with Serena right after sophomore year, hence why Serena felt the need to leave and go to boarding school and not come back for a year before she was kicked out for returning late in the beginning of the school year.
When Jenny Humphrey, a freshman steals Nate away from her on her birthday, which is also the day that her then pregnant mother marries Cyrus Rose, Serena and Blair make up once again and go back to being the best of friends, while ignoring Nate and his new girlfriend.
When Blair's mother marries Cyrus Rose, she meets her new step brother, Aaron Rose. Here comes the day Blair has been waiting for all her life—her Yale interview. Blair messes up her college interview at Yale by telling her interviewer about the train wreck her life has become, and then kissing him on the cheek upon dismissal. Blair's father donates a multi-million dollar vineyard to Yale, but it is still not enough to clear her mistakes, and she is wait-listed at Yale. She's turned down by Harvard, Princeton, Brown, Tufts, and Wesleyan and is only accepted into Georgetown University, her safety, despite being one of the best girls in the senior class. However, Serena, a below-average student, was accepted into all of these schools. She is known to move out of her home frequently, first trying to live at Serena's penthouse before they left for Sun Valley, then taking a suite at The Plaza Hotel, then moving into Brooklyn with her shaven-haired classmate Vanessa Abrams, living with Serena at the original apartment where Breakfast at Tiffany's was shot, and moving into designer Bailey Winter's East Hampton home as a muse.
She also lived in the Yale Club of New York City for a short time, where she held her high school graduation bash. After Nate, her relationships with other men have been quite rocky. She started a brief fling with her Yale alumni interviewer, only to end it when she finds out that he was married and has a daughter also studying at Constance. She also had a romantic relationship with Serena's younger brother, Erik van der Woodsen, while they were skiing at Sun Valley for spring break. After another messy break-up with Nate, she starts a brief affair with a British lord she met at the Yale Club, however, this was ended upon learning of his relationship with his second-cousin. Blair is eventually accepted into Yale. She and Nate go on a month-long boat trip around the world over the summer and return a week before college starts, only to discover Serena waiting. Nate realizes he also loves Serena, but not wanting to hurt Blair he chooses neither of them. At the end of the final book, Blair and Serena make up after Nate leaves them both to sail across the world with his father's Navy mentor, Captain Chips White, to figure his life out.
Television series
Edit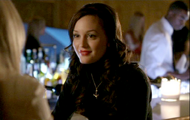 Blair is introduced as Manhattan's queen B of
Constance Billard School for Girls
. After a year at boarding school,
Serena van der Woodsen
Blair's ex-best friend and former
It Girl
of the Upper East Side's social scene returns to Manhattan and the two girls attempt to repair their friendship.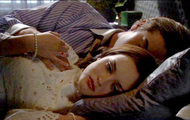 This is quickly ruined once Blair discovers a reason behind Serena's departure—she had a drunken one-night stand with Blair's boyfriend
Nate Archibald
. For several episodes the girls stay in a catty rivalry, until the end of
Poison Ivy
. Acting out of anger, Blair incorrectly reveals to the entire Ivy Week Mixer that Serena is a drug addict seeking treatment at the
Ostroff Center
, but Eric later admits to Blair than it was he who was seeking treatment there. Blair reveals a letter she never sent to Serena while she was away. Their roller-coaster friendship is once again stable.
Blair's mother
Eleanor
whom Blair has always suspected of favoring Serena over her has her own fashion line. When Serena is chosen over Blair to be the face of Waldorf Designs, Blair believes that Serena is going to take everything away from her once again. Blair has a brief heart-to-heart with
Dan Humphrey
at the end of
Bad News Blair
, even though the two usually can't stand each other, especially Dan, a Brooklyn outsider who is dating Serena.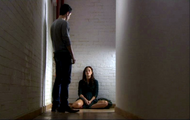 Nate, behind Blair's back, continues to frequently seek out Serena, who is uninterested in his advances. This causes a frustrated and hurt Blair to reach her breaking point, and after ending her already strained relationship with Nate, she heads to Victrola, the burlesque club recently opened by
Chuck Bass
. When Chuck, Nate's best friend, challenges Blair to dance on stage after having several drinks, she accepts.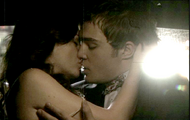 At the end of the episode, Blair loses her virginity to Chuck in the back of his limo. Blair then convinces herself that this was a complete lapse in judgement, which fuels her desire to get back with Nate. She also warns Chuck to stay quiet about what happened between them. It is also revealed in
"Blair Waldorf Must Pie!"
that Blair has suffered from bulimia and relapses at Thanksgiving after finding out her mother demanded her father not come to visit for the holiday. On the
night of Blair's seventeenth birthday
, she sets out to reconcile her relationship with Nate, which Chuck deems impossible.
Jenny Humphrey
and Nate have a conversation that leads to them hugging, and the photo is sent around by
Gossip Girl
, implying that Nate and the mystery girl did a lot more than hug.
When everyone at the party receives this message, Blair is humiliated and finally confesses that she and Nate broke up days before. Chuck reveals that he has butterflies in his stomach when it comes to Blair, due to his genuine feelings for her, something he is confused by; Blair freaks out, but later on accepts from him an expensive diamond necklace that she had put on hold for her birthday.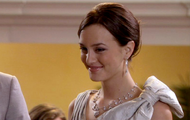 The two then begin a secret affair. Blair and Nate reconcile at the Constance Billard Debutante Ball, after his jealousy causes him to get in a fight with
Carter Baizen
. Chuck worries about losing Blair to Nate again, and manipulates the events in the hopes that Blair and Nate would get in a fight. However, the plan backfires, and has the opposite effect. Chuck sees Blair and Nate kissing while slipping out of the ballroom, and a miserable Chuck leaves New York briefly, presumably on vacation. After Chuck threatens to expose his affair with Blair, Blair breaks up with Nate so there won't be any point in Chuck's doing so. However, when Nate takes the fall for Blair at school thinking he's sparing her from getting expelled due to a wild pool party that took place on school grounds their relationship is mended. Upon discovering this, Chuck plans his revenge.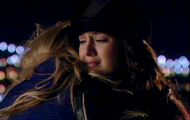 He sends a tip to Gossip Girl saying that Blair slept with two guys in one week. Tired of being socially shunned by Blair, Jenny confirms this to Nate. The boys then proceed to fistfight in front of the school, which results in Nate cutting ties with both Blair
and
Chuck. Now an outcast and subject of mockery, Blair prepares to flee to France to live with her father. Serena manages to stop Blair in time, persuading her that they can get through this together. Blair returns to Constance Billard as a social outcast and laughing stock. Taking Serena's advice, Blair makes an attempt to put the entire mess behind her.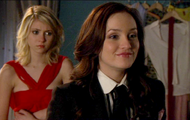 However, when the group of Mean Girls bail on a dinner date with Blair, the brunette plots revenge on Jenny and prepares to reclaim her throne as Queen B of Constance. She does this by inviting the group to the Humphrey loft on Jenny's birthday. This leads to embarrassment for Jenny - not only do they see that she is relatively low-class financially, but it is also proven that Jenny stole Hazel's mother's one-of-a-kind Valentino dress. Blair takes the rest of the girls to dinner to celebrate, but the victory is short-lived when Jenny drags Nate along. Jenny is forgiven because several of the girls have crushes on Nate, and believe a flimsy lie about the maid selling the dress. This instigates a conflict between Blair and Jenny.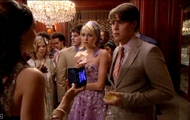 A week later, Blair ensures that her academic rival, Nelly Yuki, does poorly on the SAT exams by persuading Nelly's ex-boyfriend to get back together with her and then break her heart. This also allows Blair an opportunity to exclude Jenny from the group when she shuns the blonde from her SAT study group. Blair and Jenny send outrageous fake rumors about each other to Gossip Girl. Jenny begins dating a boy named Asher in an attempt to solidify her social standing. To impress the Mean Girls, she lies and says she slept with Asher. At the couple's party, however, Asher is outed as an homosexual, exposing his cover-up relationship with Jenny, as well as her lies. This results in the Mean Girls turning their back on her and Blair taking her place as Queen of Constance once again.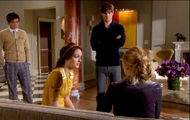 On the same night, a distressed and tearful Serena shows up at Blair's penthouse. Serena confesses that she killed someone. Blair is stunned, and while looking for medication to calm her friend, Serena slips out and spends the night drinking and partying with people she doesn't know. Blair eventually retrieves her and takes her back to her apartment the next morning. Blair enlists the help of Nate and Chuck, even though things are still tense and awkward between them. Serena eventually and reluctantly reveals the events that took place on the night of her departure.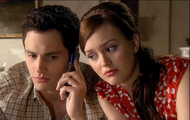 Later that night at the Bass-van der Woodsen' wedding rehearsal dinner, Blair persuades her that Serena doesn't deserve to be shipped off to a reformatory school because she's already paying for her sins. Blair and Chuck then work together to personally hunt down
Georgina Sparks
, an ex-friend who has been tormenting Serena for weeks and trying to seduce Dan. Unfortunately for Blair, Chuck and Nate, Georgina is nowhere to be seen at the concert, as she has already kissed Dan and left with him.
The next morning, Blair wakes up to find that she and Chuck fell asleep on her bed while plotting against Georgina. Blair pushes Chuck out of her room, not being able to acknowledge how she feels about him. She then finds Dan and convinces him to help in her take-down of Georgina. Dan and Georgina walk through Central Park until Dan ultimately leads her to a waiting Blair Waldorf. Blair then introduces Georgina's parents, who lecture their daughter and send her to a boot camp for troubled girls. Before Georgina's departure, Blair reminds her that she's the only crazy bitch in their group. At the Bass-van der Woodsen wedding,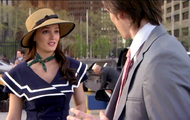 she and Chuck reconcile when Chuck announces in his best man speech that "in the face of true love, you never give up—even when the object of your affection is begging you to." Blair is moved by his words, which were for Blair inspired in the moment. The two share a kiss after he apologizes for his previous indecencies. Blair is surprised to see Chuck so romantic. A week after the wedding, Blair and Chuck prepare to spend the summer together in Tuscany. However Chuck, fearful of Blair truly seeing him and then losing her after a conversation with his father, backs out and leaves Blair waiting on the heliport, leaving her to fly off to Tuscany without him. On board, she meets a new love interest.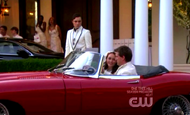 A good portion of Blair's storyline in
Season 2
revolves around her love-hate relationship with
Chuck Bass
. At the beginning of season 2, Chuck tries to win her back, but Blair is preoccupied with her new fling, a British Lord by the name of
Marcus Beaton
, and upset at the same time that Chuck doesn't say
"I love you"
when she wants him to. Blair manipulates Marcus's stepmother into a social alliance after she learns that the Duchess is actually her ex-boyfriend Nate's secret married lover Catherine. She later gains a bit of sympathy for Catherine when she realizes that Catherine's relationship with Marcus's father parallels her own sexless relationship with Marcus. Chuck picks up on this, and in the middle of a blackout at a party he puts on a fake British accent and seduces Blair.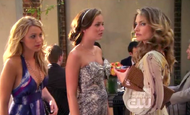 Marcus walks in on the two of them, and Blair admits she wasn't fooled, but that she needed Marcus to show her that he wanted her, physically which results in Marcus kissing her in front of the people gathered at her house and a dissatisfied Chuck watching. Vanessa discovers that Marcus is sleeping with Catherine, his step mom, and tells Blair because she thinks that Blair can manipulate them to get Nate out of debt. Blair threatens to tell Catherine's husband about Catherine's affair with Lord Marcus. She also tells Catherine she would keep her mouth shut if Catherine and Marcus left town together and would paid off Nate's father's debts. Unfortunately, Vanessa, not believing Blair is really intending to go through with the plan, went to Lord Marcus' father earlier and spilled the beans about Catherine and Marcus, ruining Blair's plans and any chance of settling Nate's family's debts.
With Marcus out of the picture, she waddles back into her clique of friends but as it turns out, in the little time she was preoccupied with dating Marcus and getting rid of him, Serena van der Woodsen, her best friend and it girl, has regained her original spot as Queen Bee and acquired the favor of the girls in their clique once more. During Fashion Week, Blair, annoyed that Serena is the one in the spotlight, tries to ruin things for her and Jenny, who unknowingly gets in the middle while trying to create a great show for Eleanor. Jenny then wins her sympathies back by telling her that she, like Blair, works for everything she achieves, while Serena just glides through life, which is why Jenny idolizes Blair. Blair confronts Serena backstage and expresses hurt at the fact Serena broke their tradition of watching the fashion show from backstage.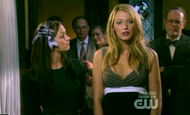 However, Serena rebuffs Blair's accusations and tells her bluntly how she always has to step aside so Blair can be the one to shine the brightest, and that she no longer wants to hold back who she is just so Blair won't get her feelings hurt. Thrilled to be going on a school trip to Yale, Blair thinks of ways to impress the headmaster. However, he is already charmed by Serena, who has decided to go to Yale instead of Brown. Blair is overwhelmed by worry and anger and messes up her interview. To recover from this gaffe, she bribes the secretary to allow her to attend a very important dinner the dean is hosting, where she sabotages Serena's chances by revealing Serena's history, including her 'murder' of a drug addict with who she used to party with. This culminates in a physical cat-fight, where Blair and Serena resolve to stop being friends. The next day, however, Serena finds Blair fessing up to the dean, when she intended to do the same for her. They apologize to each other and resume being best friends.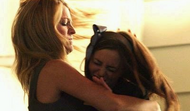 Vanessa tries to blackmail Blair by threatening to release the pictures of Marcus to Gossip Girl, in an attempt to make Blair endorse her campaign to save an old bar. Blair enlists the help of Chuck to seduce and destroy Vanessa so she can never bother her again. However, in the midst of the proceedings, Chuck grows to like the old bar and Vanessa, so he backs out on their plan. Blair berates Vanessa anyway, and tells Chuck that he can claim his prize, a night with her. Chuck demands that she admits that she loves him, as she had asked him to do before, but Blair adamantly refuses, telling him that she will never say those words to him. He gets up and leaves, telling her that he is done chasing, and it's now her turn to chase him. Blair refuses to say that she loves him while walking to school. She then begins plotting against Chuck Bass to get him to sleep with her, saying
"she has an itch that only Chuck can scratch"
. Serena invites Dan to give a little advice, and Dan suggests that Blair make herself irresistible to get Chuck to sleep with her. At one point, Blair entices Chuck into getting a drink with her; unfortunately, she throws herself all over Chuck by first getting him to 'smell' her perfume and then "accidentally" her drink on Chuck's pants. Chuck gets bored with her desperate acts and leaves. She then calls Dan who suggests she intercept him at home. Blair goes to Serena's room, pretending to be sleepover at Serena's and when she has actually planning secduceing Chuck. Blair nearly succeeds but their foreplay is interrupted by Serena's text message. Chuck and Blair race to grab Blair's phone and Chuck leaves, realizing that Blair was just playing games.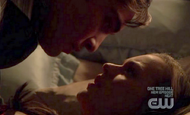 In her last effort, Serena suggests Dan's advice once more. Dan tells Blair to take a risk and admit to Chuck that she loves him, as Dan can see that Blair is indeed in love with Chuck. Blair takes his advice much later and calls Chuck, asking him to meet her at the roof of Rufus' gallery during his opening. But before the meeting, Dan finds out about Vanessa's incident with Chuck and Blair and sabotages Blair by replacing his advice on taking risks with that of taking caution. Chuck and Blair get into an argument and Blair reminds Chuck that she asked him to say those
"three words, eight letters"
first.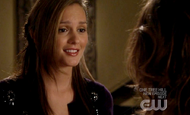 Chuck walks off and Blair leaves the gallery. Later that night, Blair receives a visit from Chuck, who tells her that the reason that they can't say
"I love you"
to each other is because it would end their current relationship and send them to a closer level, one that Chuck knows they aren't ready for. Blair contemplates Chuck's advice, and eventually agrees, with the idea that they will put their relationship on hold. Blair disapproves of her mothers new boyfriend, Cyrus Rose, and will do anything to break them apart. She succeeds when she gets him to admit he had an affair when married to his ex-wife, and fell in love with the other women. At Blair's eighteenth birthday party, Blair tells Eleanor, and she breaks up with him; however, Blair reconciles the two after she finds out that Cyrus asked Cyndi Lauper to sing to her at her birthday. In
The Magnificent Archibalds
, Blair is offended when Cyrus hijacks her Thanksgiving traditions.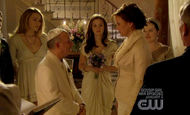 In the episode
O Brother, Where Bart Thou?
, Chuck reels from the news of his father's death. Blair forgets all their games and does what she can to be there for him, finally telling Chuck that she loves him. However, he is still mourning his father's death and leaves her without responding. Blair turns to Cyrus Rose for support, and finally accepts him as part of her family. Cyrus marries Eleanor Waldorf, and that night,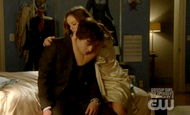 Chuck appears in Blair's bedroom, wordlessly asking her to comfort him. They fall asleep together, but in the morning she wakes to find him gone, having left her a note saying that he is sorry for everything, she deserves much better, and that she must not go looking for him. During the episode
In the Realm of the Basses
, Chuck returns along with his uncle, Jack Bass, and initially shuns Blair. When he is drunk and on the verge of suicide, Blair arrives and talks him down from a ledge. After telling Chuck
"I'll always be here"
, Blair shares a moment of affection with him. When Blair and Jack help Chuck go home she asks Jack not to tell Chuck about what happened between them on New Years. In the episode
Gone with the Will
, Chuck is given the job of becoming the new CEO of Bass Industries. At first Chuck willingly decides to give the job to Jack, who wanted the position more than anything else on the will, but Blair and Nate persuade Chuck to reconsider believing that he could do it. Jealous and furious, Jack arranges Chuck to be caught by the Board of Members, drunk, with a room of prostitutes and lines of coke lying around. When Chuck realizes what his uncle had done he storms out the congratulatory party arranged by Blair. Blair goes after Chuck but he yells her off when he told her to stop acting like his wife. That night Chuck tries to apologize to Blair but she couldn't forgive him for what he said. With early acceptance letters to Yale arriving, the halls of Constance Billard and St. Jude are curious to know who got in. Blair constantly has her clique refreshing her Eli Account to see if she got in or not. It is finally revealed that Blair got waitlisted where as Dan and Serena are accepted. However, knowing how much Yale means to Blair, Serena tells Blair and Dan at first that she got wait listed too. Eventually, Serena reveals her acceptance to Dan and Blair and both couldn't be happier, but she rejects her acceptance so Blair will get her spot.
Meanwhile, a new, young teacher from Iowa named Ms. Rachel Carr arrives at Constance Billard. Although, Serena admires the new teacher she becomes a threat to Blair when she gives Blair very first B. Blair decides to get back at Ms. Carr when she invites her to dine with her and her father but stands her up. At the opera with her father and his boyfriend instead of the restaurant, Blair receives a call from the Headmaster saying that Yale will accept her if she keeps her grades up. Regretting standing up Ms. Carr, Blair rushes to the restaurant and finds her leaving but manages to apologize. The next day, Blair is asked to see the Headmaster believing it to be a congratulatory tea, but it turns out Ms. Carr had informed the Headmaster of what Blair had done and the Headmaster punishes Blair with detention and informs her that Yale will be holding her acceptance. After their meeting, Blair decides that it is now war between her and Ms. Carr, and that this is one war she is going to win. During the episode
"Carnal Knowledge
, Dan and Ms. Carr have been getting closer despite that Dan is not her student. Seeing their awkward interaction in the halls, Blair sends a text to Gossip Girl about their seemingly not so innocent student-teacher relationship. The word gets out and soon the Headmaster and Ms. Carr speak to Blair knowing that she is the one who posted the rumor on Gossip Girl after Nelly Yuki, a member of Blair's clique, admits it was Blair. Then the headmaster expels Blair from Constance Billard. Serena tries to apologize for Blair to Ms. Carr and explains how much Yale means to Blair but Ms. Carr replies that Blair's rumor could ruin her reputation as a teacher and leaves for an appointment she has before the PTA meeting. Serena sees that Ms. Carr left her planner and decides to give it back to her at the restaurant listed in it. There, Serena finds Dan comforting Ms. Carr and quickly takes a picture of them and shows it to Blair, who goes to the PTA meeting and shows all the parents, teachers, and the Headmaster. Meanwhile, Dan arrives at the school upon receiving a text from Serena to meet her there and Serena explains what she saw and Dan tells her that nothing happened. When the parents, the faculty, and Blair leave the meeting Ms. Carr is fired and Dan gets mad at Blair for what she did. However, that following the night Dan goes to Ms. Carr's apartment to try to apologize to her for everything that happened. In the episode "The Grandfather" Blair is devastated of what had happened to her life, so she goes to Carter Baizen for help. However Carter is encouraging the worst in her by getting her to let loose and she begins to change into a new Blair. The van der Bilts threw a party for prominent members of NYC society. Blair, with nothing to lose, decided to insult anyone who came into her path, from cheating husbands to wives with bad face lifts. Serena and Chuck tried to silence her to no avail. In a separate room later, Blair propositioned Chuck, but Chuck wouldn't give in, claiming that this wasn't the Blair he wanted. Meanwhile, Blair continues to stoop to new lows, and ends up escaping the party to a large silent room in the mansion. She is found by Nate who comforts her. They reminisce about how when they were kids she always made him watch the same movies over and over again because Blair liked knowing how things ended. Nate reminded her she was Blair Waldorf, someone who doesn't let a mishap get in the way of what she wants.In the episode "Remains Of J," Blair and Nate start up a friendship; however Chuck is adamant that they are much more than just friends. Jealous, Chuck confronts Blair to which she replies that her and Nate's relationship is "purely platonic". Chuck claims that Blair and Nate don't have any sparks, and that Nate is not over Vanessa, prompting Blair to claim that her and Nate have plenty of spark and "fireworks." Chuck reminds her of their undeniable chemistry, saying that it was them who had fireworks, aggravating Blair, who then proceeds to explain that she fought for him, hard and for a long time; and that now that they are over, she is exhausted. She explains that being with Nate and is easy and right. Chuck then teams up with Vanessa, who is broken up with Nate, to drive Blair and Nate apart. Chuck and Vanessa arrive at Jenny's 16th birthday party together and walk in to see Blair and Nate sharing an intimate conversation. In the heat of the moment, Vanessa pulls Chuck in for a passionate kiss. Determined to prove Chuck's theory that her and Nate have no sparks, Blair drags Nate along into Chuck's bedroom, and locks the door. Nate rejects her and she leaves. The next day Blair is walking in the park with Dorota, when she sees Nate there also. As it turns out Nate planned to wait for her there so they could have their "first" official kiss as a couple. Later, however, Blair and Nate go their separate ways romantically at prom, saying that it was always her dream to go to prom with her high school boyfriend, but now that she has, he just feels like her high school boyfriend. In the season finale Blair realizes that she still loves Chuck and at Nate's graduation party she tells him once again that she loves him and he rejects her again. Heartbroken she confides in Jenny and then crowns her Queen. At the of the season finale Blair sees Chuck waiting for her on the sidewalk and they are reunited as he apologizes finally declare his love for each other by saying "I love you too."
In the beginning of season 3, Blair and Chuck are shown playing a game in which Chuck seduces a girl,and Blair then plays the scorned woman, thus embarrassing the girl. Blair eventually is tried of this game, and upon admitting this to Chuck, they both begin to embrace a new degree of maturity and honesty in their relationship, keeping any sex games in the bedroom.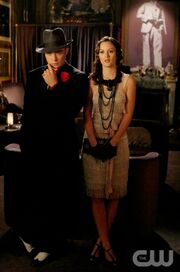 Blair later has difficulty fitting in at New York University (NYU), as she seeks the same power she had at Constance. In the process, she is continually challenged by Georgina Sparks, who requested Blair as a roommate. However, Chuck regularly appears to provide her with support and comfort throughout her endeavors.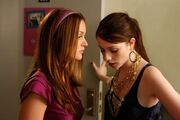 Eventually, Georgina departs town temporarily, unaware at first that Blair has evened the score with her once again. Later, Blair and Chuck have a brief falling out regarding Blair scheming against him for a speech at NYU. However, Chuck eventually decides that Blair is the only woman for him and gets back together with her. Later Blair has a fight with Serena over Serena's childish behavior after deferring her acceptance to Brown. At Nate's cousin Trip's election party, Blair calls Serena a prostitute, which leads to Serena pushing Blair's face into a cake. Eventually Chuck traps Serena and Blair in the same elevator with a single malt scotch and macaroons, which gives them time to talk out their problems. When it is the anniversary of Bart's death she is there for him as well as when his "dead" mother comes back.  Chuck loses the Empire Hotel due to one of his uncle Jack's schemes, so in order to take it back, he agrees to trade Blair for the hotel by manipulating her to have sex with Jack. But in the end, Jack gives back the hotel to Chuck, Blair is devastated and ends her relationship with Chuck who blames her instead. Later, Chuck tries to win Blair back by giving her an ultimatum: she should meet him at the roof of the Empire State Building at 7pm or lose him forever. She goes to meet him but Dorota goes into labor so she is late to meet him and then goes to the Empire where Chuck tries to propose Blair, though they are interrupted by Dan, who reveals that Chuck slept with Jenny, believing that Blair no longer loved him because she was late. Afterward, Blair leaves Chuck crying and calls Serena. They take a vacation to Paris together, as it's their first summer where they are both single.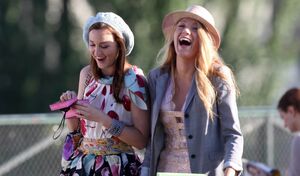 As season 4 begins, it is revealed that Chuck survived a mugging in Prague at the conclusion of Season 3.
However, she appears to have moved on romantically. In Paris, Blair meets Louis Grimaldi, a member of the Monagasque royal family. She has a date with him, an emotional talk with Chuck, and eventually leaves Louis in France with one of her shoes, telling him to find her one day.
After returning to the United States, Blair continues her friendship with Serena, but has difficulties accepting Chuck's girlfriend from Paris, Eva. She eventually lies to him so he will break up with Eva, and although Chuck realizes the truth, it's too late. Blair starts her first semester, but runs into problems with Chuck as he tries to seek revenge on her for ruining his relationship with Eva.
Eventually, however, she and Chuck are brought together once again by their passion and love for one another, first by having hate sex in hidden places around the city, but then admitting that they love each other.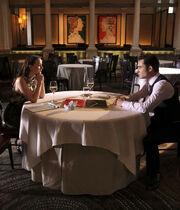 However, once again the love can't last, as Blair finds she must establish her identity independent of Chuck before being in a relationship with a powerful business man.
Shortly before Christmas, Serena is discovered seemingly having a overdosed on drugs, and is checked into the Ostroff Center. While Blair initially believes that Serena has succumbed to a drug addiction, she quickly re-evaluates the situation when she learns of Juliet's involvement in the matter. Blair enlists Dan help in clearing Serena's name, and the two embark on a trip to Connecticut to learn more about the mysterious Juliet.
After discovering that Juliet's brother, Ben, was a teacher at Serena's former boarding school, the two return to Manhattan armed with this new information, only to discover that Serena has already taken matters into her own hands. Over winter break, Blair and Dan find themselves the only two members of the circle still in New York, and start attending a screening of Nanette at Film Forum. While they initially agree that this secret rendezvous would be a one-time affair, the two find themselves repeatedly drawn into spending time together out of loneliness - notably after Dan suggests that Blair consider a career in the world of fashion despite her mother's earlier encouragement.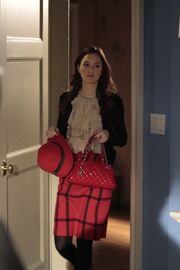 Dan and Blair's budding friendship is challenged when they discover that they're now rival interns at W magazine. Though Blair is successful in sabotaging the rest of her competition, Dan's intelligence makes him a worthy opponent for her. When a celebrity writer cancels on an important magazine party, Dan and Blair make a pact whomever successfully and without sabotage from the other finds a replacement will remain at W, and the other will resign.
Though Blair is tempted to sabotage Dan, Serena intervenes, and Blair thinks the better of it. However, Dan, assuming Blair would not abide the rules of their pact, arranges for her writer to miss the party, inciting a physical skirmish between the two and their mutual firing. Later, when Dan finds out how badly Blair wanted the internship, he tells their supervisor, Epperly, that he was to blame, and gets Blair reinstated. Later, in an attempt to ease Epperly's stress and win her favor, Blair schemes to have Nate romance her new boss.
However, Epperly reconnects with an old boyfriend and quits the magazine—leaving Blair to take her position. Excited that she is finally starting a career for herself, she works herself to the bone at work and in her social life to speed up her time table so she can get back together with Chuck. Shortly thereafter, Dan asks Blair's help in getting an article he's written to editors at other Conde Nast publications.
Meanwhile, Blair has written off Chuck's new romance with Raina Thorpe as another of his schemes, only to learn that his feelings for her are in fact quite real during a Valentine's Day party. Dan attempts to comfort Blair, who admits to him later that she'd enjoyed his article and passed it along to her superiors. The two spend the remainder of Valentine's Day on the phone while watching Rosemary's Baby in their own homes. In her attempt to balance her responsibilities at W with her academic career and social life, Blair begins to run herself down. Her interns at the magazine all ask to be redistributed, as they find her leadership too aggressive. During a hectic day Blair is approached by Serena and Erik for help with a scheme regarding Damien—despite Dan's insistence that she's overworked. Eventually, her obligations prove to be too much even after admitting to Dan that she needed his help, and she tells him that she was "fired/quit" from the magazine. She confesses that part of her drive to be successful was hope of reuniting with Chuck, thinking that the quicker she establishes herself as a powerful woman, she could be with the man she loves. The two subsequently fall asleep on one another while watching a movie at his loft. Blair's clandestine friendship with Dan threatens to be exposed when her positive mood is noticed by Dorota, who discovers a magazine of Dan's in her bedroom. In an attempt to quell everyone's suspicions that they're dating each other, Dan and Blair agree to announce their friendship during a party—but the plan falls apart when their friends are distracted by Lily's confession to the police regarding her role in Ben's jail time. Dan and Blair decide to end their friendship, but he arrives at her home late that evening and suggests that they should confront the possibility that they actually do have feelings for each other with a kiss. After an awkward hesitation, Blair finally pulls Dan to her and kisses him. While Dan reveals that he was excited by the kiss, Blair decides that it merely demonstrated to her that she should be with nobody but Chuck (a fact she keeps hidden from everyone while she hides out in her room in the week following the kiss). Blair then accepts an invitation to help out her former supervisor at W, Epperly, at an event where prominent families will be photographed. Blair is unaware that Chuck has arranged this in order to reconcile with her romantically, and, having discovered that she and Dan shared a kiss, also lured him there to be humiliated in front of her. This act only reinforces Blair's stance that Chuck is not ready for an adult relationship, and she inadvertently reveals to Dan that the kiss meant nothing to her.
At the end of episode 18, Louis Grimaldi Blair's royal fling from Paris is seen exiting from a car with a high heel, indicating that he is in Manhattan to court Blair. Prince Louis and Blair begin a romance during his time in New York, but keep it a secret in order to avoid being discovered and judged by his family. Shortly thereafter, Princess Sophie, Louis' mother, arrives from Monaco and instructs Louis to end the relationship and to choose a royal to marry. Dorota helps Blair to prepare for a party during which Louis and his mother will be introduced to and entertain various princesses and noblewomen. While Blair initially shines at the party, despite the princess' earlier opinion of her, this success is short-lived, as Chuck arrives in a drunken stupor to try to win her back.
Mortified, Blair leaves the party, and reveals to Serena that she's aware of the latter's double-dealing, and how she was truly happy with Louis. After overhearing this conversation, Louis visits Blair and proposes to her. Blair goes to Chuck to announce her engagement, enraging her already-depressed and intoxicated former lover. Chuck loses himself, and grabs Blair telling her "you're mine", and punches a window, the shards cut her face. She then runs from the room with a small cut on her cheek.
Eleanor and Cyrus return to Manhattan to help Blair prepare for her wedding to Louis, and with hopes of reconciling the prince with his family. The Waldorf-Roses make an excellent impression on Princess Sophie, who welcomes the couple with open arms and allows them to announce their engagement at a Constance Billiard alumni event. In the meantime, Blair learns that Jack Bass has also come back to New York at the behest of the Thorpes, who have designs of doing away with Chuck as revenge for what Raina perceives as Bart's murder of her mother. She sneaks away to warn Chuck of this, and helps to prevent Russell's takeover of Bass Industries. However, her interaction was discovered by Louis, who asks her to choose between himself and Chuck. While Blair once again chooses Louis, she leaves him waiting for her at the alumni event in order to attend to Chuck, whom she is told by Russell is on the verge of suicide from the rooftop of his hotel. The final episode of the fourth season finds Blair being held hostage by Russell, who plans to torch the building, killing her and taking revenge on Chuck for exposing his actual involvement in his own wife's death to Raina. Blair manages to discretely call Chuck and alert him to her whereabouts. He arrives with Nate and Raina, who convinces her father to spare the building before having him arrested. Chuck offers to take Blair to the prince after a drink, which turns out to be a night of spontaneity at a nearby Bar Mitzvah, during which Chuck and Blair realize their love and chemistry once again, and they have sex.
Afterwards, Blair announces to Chuck that she's prepared to leave the prince, who she is admittedly happy with, to be with him. Blair says that no matter what their love and passion will pull them together. Chuck circumvents this action, saying that Blair deserves easy, simple love. They declare their undying love for each other, and Blair walks away from a heartbroken Chuck.
Blair and Louis remain engaged, and prepare to leave for the summer in Monaco to plan their nuptials. Blair also plans to watch more movies over the phone while she's away with Dan and inviting Serena to be her maid-of-honor. A final scene reveals Dorota absently emptying the trash from Blair and Serena's shared bathroom, the contents of which includes a pregnancy test that reads as positive—however, which of the two girls, if either, is actually pregnant was left a mystery.
In the fifth season premiere, during a fitting for her wedding dress, the seamstress approaches Blair and asks her how many weeks she has been pregnant. She tells Blair that her weight will be showing in a couple weeks and guesses that Blair is six weeks pregnant, thus revealing that Blair is pregnant with either Louis or Chuck's baby.
In "Beauty and the Feast", she meets Louis's sister, Princess Beatrice, and tries to get on her good side. All day, Blair keeps on running in the bathroom due to morning sickness, and Beatrice mistakenly thinks that Blair is bulimic. Later, at a royal event, Dan arrives, and she makes him kick everyone out of the bathroom so she can vomit. Dan also thinks that she has relapsed back into bulimia, and offers to help her, refusing to let her leave until she agrees to seek treatment. She then finally admits that she's not bulimic but pregnant, just as Beatrice walks in the bathroom, smiling. Dan is shocked to hear this since he is in love with Blair. Toward the end of that episode, Blair goes to see Dan at the loft to drink tea and talk about who the father can be. Blair suspects it's Louis, since she had slept with him many times and only slept with Chuck once, and tells Dan she plans to keep the baby because it was still conceived out of love. Dan tells her she should at least know who the father is, if not for her then for the baby. Blair is worried she will lose everything she has, but Dan shows his support. 
In the "The Jewel of Denial", Blair refuses to open her test results and find out who the father of her baby is. Dorota asks Dan to help Blair open the test results. After a fashion show, Dan finally encourages Blair to open the envelope. The father is not shown until later, when Blair goes to see Chuck, announcing that she is pregnant with Louis's baby and also saying that a part of her wanted the baby to be Chuck's. Blair is then seen telling Louis about her pregnancy, who is overjoyed and asks her where she'd want to celebrate. Blair is last seen taking the ripped envelope of her test results that Dorota fixed together and putting it away in a drawer.
Though she insists that she is in love with Louis, Blair begins to seek Chuck out as the season progresses. The two eventually declare their love for each other, and plan to run away together to raise the child, right before Chuck and Blair get into a serious car accident. The mid-season finale closes at the hospital, with Blair awake and responsive, and Chuck presumably still unconscious, suffering greater injuries.
The season picks up at Blair and Chuck in the hospital. We learn that Blair made a deal with God, that if God saves Chuck she will marry Louis. Right as she makes the promise, a nurse comes in, telling her that Chuck was asking for her. Blair decides that God honored their promise and broke off any romantic relations with Chuck, telling him, "Just because we can't be together doesn't mean I won't love you". We also find out that Blair lost her baby from the car crash. In the following weeks, Blair has difficulties staying away from Chuck, saying she "feel(s) dead inside without him".
Soon the wedding preparations are in full swing and, as the day of the wedding comes around, the plans are being sabotaged by the Priest of Monaco and Princess Beatrice, who are working together (as well as sleeping together) so that she becomes the heir to the throne instead of Louis. Once Beatrice outs herself of the plan, only Chuck can stop the Priest from ruining the marriage of the century. He tries his hardest to stop this plan from succeeding by pretending to be on the Priest's side, but saying he wouldn't do that to her, and that he just wants her to be happy. Eventually it is left to Georgina Sparks to try and stop the wedding from going ahead.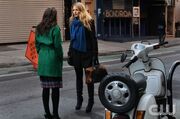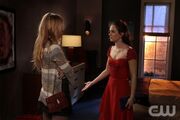 At the altar, a Gossip Girl blast shows a video of Blair telling Chuck she's still in love with him whilst she was getting ready to walk up the aisle; as this video spreads through the crowd, Blair is mortified and runs off leaving a confused Louis and lots of wedding guests wondering what is to happen. Out of the church she talks to Louis telling him that she wants a second chance and will never humiliate him again, he apparently goes along with her and they marry but, once having their last dance before honeymoon, she discovers that he only went ahead with it to stop even more public humiliation and he doesn't want to be married to her at all. This plan has the support of his mother Queen Sophie, but she wanted to wait until after the wedding was over to break the news.
Facing the crushing horror of a loveless marriage, Blair calls Dan to drive her to the airport. She drives away in the just married car with her head down and an uncertain future.
After the wedding, Dan is certain he has lost Blair to Louis but soon finds out it is a sham wedding when Blair asks him for help to get out of the country and file for a divorce. Taking her to the airport he realizes just how much she needs to get out of this situation and lies to Serena about her whereabouts, this leaves him with a problem when he is discovered with Blair later on.
When Dan and Blair are in the Airport hotel, they have an argument. They are interrupted by Chuck and Serena. Soon after Serena and Dan leave, leaving Chuck and Blair alone. Chuck and Blair have a conversation about them. Chuck says to Blair that he will protect Blair from the Grimaldis, but Blair says she has to fight them on her own.

Soon afterwards, Blair arrives from her honeymoon to Manhattan on Valentine's Day and tries to set Dan and Serena up. However, when Blair notices the lack of interest Dan has in pursuing his old relationship with Serena, she tells him that she attempted to get Dan and Serena back together because she wants Dan to be happy. Blair asks him what it is that would make him happy, and he responds by kissing her, leaving Blair stunned. She, however, does not stop him and instead slowly begins to reciprocate to the kiss. Unfortunately, Serena, alongside Georgina, accidentally intrudes on Dan and Blair. Georgina manages to snap a picture of Dan and Blair's kiss and soon runs away from the scene, driving Dan to chase after her, leaving Blair and stunned and angered Serena alone together. Blair continues to deny having any feelings for Dan during and after the party to both Dan and Serena. With Serena and Blair's friendship on shaky grounds, Dorota decides to lock them in the dining room up for their own good. Blair decides to prove to Serena by spending a whole day with Dan that her feelings are platonic. Unfortunately, she reciprocates another kiss from Dan while Serena accidentally intrudes on them. Serena dictates that Blair is always in denial when it comes to matters of the heart. During a re-enactment of a scene from the Inside novel, Blair realizes that Dan loves her for her and has so for some time. Putting aside her insecurities she admits to both Serena and Dan that she has feelings for Dan. Serena then gives Blair her blessing, stating that she does not want to be an obstacle in Dan and Blair's relationship. Soon afterwards, Blair pecks a kiss from Dan and heads off to support Serena with her last moments with CeCe.
In "Princess Dowry" Dan walks in on Blair discussing what could be a potential way out of her prenup on the phone with Cyrus and another lawyer form his firm. Blair shares the details and after saying that she "wouldn't have to wait a year for ... anything" she and Dan exchange smiles. At Cece's wake Chuck outs Dan via Gossip Girl as the sender of the video that was fatal to Blair's marriage. At first, she thinks that it's just a game Chuck's playing and she is unwilling to participate however, when she sees the guilty looks on Dan's face she realizes that it's the truth. She is mad at him, but forgives him after he tells her that his only reason for sending the video was that he couldn't stand to see Blair so unhappy. Meanwhile, Blair makes a deal with Estee to help her get out of hr marriage dowry free if there will be no more public mention of it not in the media, not in Gossip Girl. However, at this time Georgina, who has stolen Dan's phone, teams up with Chuck and sends Gossip Girl a message from Dan's phone that uploads the photo of the Valentine's Day kiss, thus ruining Blair's chances of not having to pay the dowry. Dorota shows Blair the blast and she confronts Dan who is with Georgina. The latter admits to having been Gossip Girl and it turns out that the deal with Estee was also one of her schemes. Dan goes to confront Chuck, who after finding out that the blast will bankrupt Blair's family is regretful, however, he reveals that he has outed Dan for the bad guy he has been and he questions whether their friendship was just an act. Blair walks over to them and Chuck tells Dan to be honest and confess that he has been trying to keep him and Blair apart, which Dan does. He apologizes to Blair and leaves. Chuck wants to be with Blair because all the obstacles are seemingly gone, but Blair tells him that though she loves him, she is not in love with him, at least not right now, not the way he needs her to be.
Later Georgina visits Blair and promises to get her rid of her dowry in exchange for Blair's support. Blair agrees to this. In last scene of the episode Blair goes to Brooklyn. Dan definitely isn't expecting her, as he is assuming she got back together with Chuck. He tells her that he knows he is an awful person and there is no need for her informing him of this. However, Blair tells him that she isn't there to tell him off and she isn't with Chuck. She tells him that she told Chuck that he doesn't have her heart anymore as it now belongs to someone else. Dan and Blair kiss.
Serena and Blair have a meeting of the scheming roommate minds. Serena (who is now Gossip Girl 3.0) spots the divorce papers and fakely gushes how happy she is for Blair to finally get her happy ending with Dan now that the Louis chapter is over, but Blair suddenly gets a GG blast about her impending divorce, which was obviously leaked by Serena. Blair is suspicious to how Gossip Girl already knows about her impending divorce, and is curious as to why Serena hasn't been in the spotlight at all, and Serena pretends to confess her desire to shine the limelight elsewhere. Blair's brilliant suggestion? Create the next Serena van der Woodsen.
Later, Blair and Dan have breakfast at her apartment. Dan wants them to go to a museum, listen to Bright Eyes on the subway, etc. Blair is distracted by the divorce papers and lies to Dan about how they don't have the royal seal on them yet, and she's afraid that they're scheming again. Dan manages to convince Dorota to show him the divorce papers, sees the seal on them, and realizes that Blair is lying to him.
Chuck speaks with his private investigator, who tells him his mother has been living in Vienna for the past six months. The P.I. suggests turning to a friend for help.. Chuck remembers that the only person who understands his issues with his mother is Blair, who can't be with him. It is then revealed that Chuck paid Blair's dowry, which is why the divorce was able to proceed.
Dan is worried about Blair's lie, but Nate tells him that he is overreacting. Nate accidentally lets it slip that Chuck paid Blair's dowry, and Dan is noticeably upset.
Blair confesses to Dorota that she is afraid she isn't quite ready to give up her marriage to Prince Louis. Chuck then shows up, but Blair doesn't understand what he wants from her. Chuck explains that Blair knows what he's going through with his mom, but Blair suspects he has ulterior motives. Serena sees that Chuck is visiting Blair, and updates Gossip Girl about the new developments.
Dan gets the Gossip Girl blast and calls Blair, thinking their secret meeting is about the dowry, but Blair reveals she had no idea about Chuck's little dowry secret, and she abruptly hangs up on him to find Chuck.
Blair finds Chuck at the party and confronts him about the dowry situation. Chuck is angry that Blair knows, and Blair continues to berate him about trying to "buy" her. But Chuck says he just wanted her to be free, regardless of who she chooses. He walks away and Blair is left confused and she's about to follow him but Dan walks in to apologize.
Dan tells Blair about the dowry. Dan admits he saw the unsigned divorce papers, too, and Blair confesses that she spent her whole life dreaming of being a princess and wasn't ready to let that go just yet.
In "Salon of the Dead", Blair and Dan plan a date so they can be seen together for their debut as a couple. When they go for lunch, Blair and Dan meet a couple that gives them the idea of hosting a Salon with British literature as a subject on Dan's loft. Blair tell Dan that they won't invite Serena, as she might found them both together as awkward. She also refuses to invite Nate, rejecting the idea of imagining him at a salon. Instead, they choose to invite Diana Payne, as she is press and could get their relationship published.
During the salon, Blair is nervous when Serena, Nate, Chuck and Lola arrive uninvited. Dan and Blair leave the loft for a moment in order to get more ice for the guests, and when they arrive everyone is leaving after the shocking scene in which Diana is revealed to be Chuck's mother. Blair feels terrible, because the salon was meant to be her first public appearance with Dan but it was a complete disaster.
In the next episode, "Despicable B", Blair is jealous of Dan, as a magazine publishes a story about him being a highbrow published writer, whereas it accuses Blair of having a marriage shorter than the one of Kim Kardashian. Blair then gets invited by Dan to his book party, and she is told to arrive informal. Blair makes up a plan to become highbrow by eclipsing Dan a his book party and she arrives in a sparkly black dress which she tells Dan is her version of something informal. During Dan's speech, Blair takes the microphone and start talking about how she influenced the creation of Inside. Later, Blair is leaving, and Dan finds her, asking her why she just ruined his speech. Blair tells him that she in uncomfortable at the idea of him being highbrow while she is mocked and the couple fights.
That night, Blair is at her room and Dan arrives. Blair apologizes to Dan about what happend. They kiss, meaning that everything is fine at the moment.
In "Raiders of the Lost Art", Blair and Dan are speaking in her bedroom. They talk about how they are happy they both have the freedom to do what they want because they trust each other. Dan leaves for a meeting with Alexandra and Blair tells him she will go find her old self, going to the Met.
On her way there, Blair finds Chuck who asks her for help to unmask the reality behind Diana Payne pretending to be his mother. At first, Blair starts to recoil, but tells Chuck it is his "lucky day" after she receives a message from Dan cancelling their plans to have lunch together. Blair and Chuck head to Blair's penthouse in which she changes into a tight dress mocking Diana Payne and tells Chuck she has a form to break codes, as she coded her diary in old times thinking Eleanor was trying to read it. She looks at the agenda that Nate stole from Diana Payne and notices she always has a meeting at 9:00 p.m. on the first Saturday of every moth, as that day.
When Blair arrives at the Empire she gets called by Dan, who tells her he is been offered to spend the summer in Rome to get inspiration in order to write his next book. Dan is shocked because Blair tells him she would never stand on his way with such a great opportunity and that Dan have to go. Dan gets suspicious when Blair tells him she is scheming with Chuck, at The Empire.
When Blair looks in her purse for Diana's book, Lola notices Serena took it, and Nate, Lola, Chuck and Blair avoid Serena escaping with it. Serena explains it was because she got offered the real phone number of Gossip Girl if she helped Diana. When Chuck explains they are trying to find out if Jack is really his father, Serena decides to help him, and Blair tells her to be with them and not against them. Blair then sends Dorota undercover as a massage therapist to get Diana Payne to tell her where she was the first Saturday of the previous month. Blair sends a text to Dan telling him not to wait for her, but he sees her getting into a limo with Chuck and follows them in a car. Nate, Chuck and Blair arrive to the place where Diana is supposed to go (which turns out to be a brothel) and Dan stays outside in the cab. Dan calls his father for advice. Serena and Charlie, who are looking for Gossip Girl, also arrive, and Nate goes with Lola to find Diana while Serena tries to get the real Gossip Girl. Chuck is offered company by one of the prostitutes, but Blair gets jealous and tells the woman that Chuck is with her. Chuck and Blair tell the woman to show them the house to get a room, but in reality they are looking for Jack Bass.
When Diana spots Chuck and Blair, she calls security and the house starts to empty quickly. Blair enters a room and finds out something that shocks her deeply. Later, Blair finds Jack and tells him that she will tell Chuck what Jack is really hiding in the house. Jack tries to convince Blair not to tell Chuck because she would cause a lot of damage. Blair spots Chuck in the parking lot and tells him that he should go inside the house when it is dark and emptied.
Gossip Girl gets her job back, as it is revealed Nate and Lola were helping her to overthrow Serena, and the first thing Gossip publishes is about Blair heading back to Brooklyn, asking if they hadn't have enough of that couple.
Blair arrives to Dan's loft and asks him if he is upset with her, but Dan denies it. Dan lies and tells her that he didn't get the internship in Rome, as Dan only rejected it out of fear that going to Rome when their relationship was so unstable would ruin it completely. As Blair is about to leave, Dan tells Blair that"I love you, you know that right". Blair only replies saying "I do now".
In the end of the episode, it is revealed that what Blair was shocked to find in the brothel was that Bart Bass is alive, as Chuck also finds him with Diana Payne.
In the next episode, "The Fugitives", Blair is about to text Chuck how he's doing but Dan's agent calls and Blair answers. She finds out that Dan lied about Rome. When she brings it up to him, Dan tells her that he was worried about she and Chuck spending more time together again.
Blair runs into Chuck on the street and is asks if Chuck is okay. Chuck tells her that his father is about to leave again because some powerful people are after him. Chuck asks Blair if there's anywhere she has to be, and she gets in the car and leaves with him.
When Serena calls Blair to find out where she is, she says she's with Chuck. Serena tells her that Dan has some news and she has to come right away. When Blair gets back, Dan asks her to accompany him to Rome for the summer. Blair isn't sure she wants to go, so she tells him that she will have to look her calendar first, so she can buy some time to think. After thinking about it, Blair accepts but she's still unsure of her decision.
As they are ready to meet some people involved with Dan's trip to Rome, Serena texts Blair that Chuck is in trouble and Blair lies to Dan and tells him that she has to go get gelato and that she will come back before the meeting begins. When Blair gets to Chuck and realizes she can't make it to the meeting, she sends Serena to go instead and Serena pretends that she is Blair. When Dan asks Serena where Blair is, she lies too and says that Blair is with her mother. Later, when Dan finds out where Blair really is, he's upset because Blair lied to him again. He admits to Serena that he told Blair than he loves her, but she didn't say it back.
When Blair comes back, Serena tell's her that maybe it's time her to tell Dan how she feels. Blair says she's not ready, and that the next time she says "I love you" to someone, it will be the last time.
At the end of the episode, Dan asks Blair is she sure that she wants to come to Rome with him and Blair says that she does. 
In the finale of season 5, Gossip Girl starts to release excerpts from Blair's diary, spanning her entire life. When an excerpt that says "What if I never love anyone the way that I love Chuck? I guess someone forgot D at the end of that word" is released, Dan gets jealous once again.
Blair attempts to explain that the journal entry was from before they were officially together, Dan gives her an ultimatum: tell him how she feels, or she can't go to Rome with him. Soon after, Gossip Girl posts another piece from the diary entry from a year ago where she said "I will never forgive Chuck for what he did, he's a monster and he deserves to be alone forever." After that post, Blair goes to see Chuck at the Empire and asks if Chuck is hurt. Chuck tells her that the diary entry doesn't matter because is was a year ago and that they have made amends since then. Then Chuck asks if she broke up with Dan, she says no and Chuck tells her that he's tired of playing this game, he spend a whole year waiting for her and he's has to move on already. Blair gets a text from Dan and she leaves.
Blair realizes that she has to choose, Dan or Chuck. She talks with her mother and says that Dan is her best friend, and she feels great when she's with him; but truthfully, with Chuck she is vulnerable, and he makes her happier than she has ever been. Eleanor tells Blair that she is retiring from Eleanor Waldorf Designs and that her job is Blair's, if she wants it. Blair accepts, though admitting that she will have to hire designers since she isn't one.
As the finale episode progresses, we find out that Blair chooses Chuck over Dan, and when they are on the roof of the Empire, Blair tells Chuck that she loves him, despite trying to kill those feelings for so long, and that she's ready to be with him. Devastated, after losing Bass Industries after his father's return, Chuck replies that he doesn't want to be Mr. Blair Waldorf and leaves.
At the last scene of the finale, Blair goes to the casino where Chuck is playing Blackjack with his uncle Jack. Blair tells Chuck that she knows that he fought for her and she says that it's now her turn to fight for him, and she's all in. The dealer asks Chuck will he be all in too. The season ends with Chuck and Blair gazing at each other.
We learn that Chuck and Blair spend nights together in Monte Carlo and that they made a pact to be together after they solved their own issues. Blair is also worried about Serena who has been missing the whole summer.
Blair has been trying to call Dan all summer but he doesn't want to talk to her anymore. When Serena is found, she is trying to live a normal life away from the Upper East Side and is in a relationship with a man named Steven. Blair is trying to apologize and hopes that they can be friends again, but Serena is not interested. When Blair and Chuck go back to the Upper East Side in Chuck's limo, there is a engagement ring hanging around Blair's neck.
In episode 2, Blair is relaunching Eleanor Waldorf's Designs and runs into trouble with a face from her past, her former minion Nelly Yuki.
In the next episode, Blair is trying to launch her first fashion show with Eleanor Waldorf's Designs, but she's so exhausted that she faints before the fashion show can start.
Dorota calls Chuck and he comes to help Blair with the fashion show. Just before the show, Serena asks Blair for a favor to include Sage Steven's daughter in her fashion show and Blair agrees because she needs a center girl for the show.
When it's Sages turn to walk on the runway, she takes the designer jacket off and walks the rest of the way with only her underwear on. This makes the people to leave and Blair is humiliated. When the show is over, Blair blames Serena for Sage's actions, but Sage tells her that it was her idea to humiliate them.
In the end of the episode, Chuck comes to Blair's house to celebrate with the bottle of Dom, but Blair is upset that her very first fashion show was disaster. After they drink the bottle of Dom, Blair tells Chuck that they need each other and Chuck tell's her that if they help one another, sooner they can be together.
In the next episode, Blair is trying to help Chuck find Lady Alexander. After they visit a studio of Brian Batt, they find out that Lady Alexander is a horse. After their visit, they learn that Bart bought Lady Alexander and couple of other expensive horses from a guy named Sheikh Hassan.
Blair knows that there is a three-day horse show outside of town and maybe Sheikh Hassan himself or one of his horses can be there. Unfortunately, Chuck and Blair find out that Sheikh is dead, so they talk with his daughter Amin, but she won't give anything. But after Blair talks with her and convinces her that Bart is the bad guy and Chuck is not, Amin is confused.
In the end of the episode, Chuck calls Blair and informs her that Bart was buying the expensive horses to cover up that he was really breaking the law with the busnisses with oil. At the end of the call, Blair tells him that she was already planning their victory celebration in her head, but Chuck asks her to hold onto that thought.
In the end of the episode, Dan comes to Blair's house to ask if he could stay there because he has no where to go and he was her friend a year ago when she had no-one. Blair agrees.
In the episode "Monstrous Ball," Blair is trying to get Sage to wear one of her design to her Cotillion but Sage refuses. It's only after Sage finds out that her father Steven is proposing to Serena that she agrees. Sage asks Blair to ruin Steven's proposal because Blair is the only one that can take down Serena. When it's time to go to the Cotillion, Dan asks if he can come with Blair because he knows that Chuck is unavailable.
In the Cotillion, Sage sabotages Steven and Serena's relationship by showing everyone the Dan-Serena sex tape. When everybody finds out that Serena and Dan slept together, when Dan and Blair were still together, Blair and Dan get in a fight.
When the Cotillion is over, Serena asks Blair for forgiveness, but she is angry that Serena always takes what Blair wants. Serena reminds Blair that only one she has ever wanted is Chuck. Blair also informs Serena that she was right, that they haven't been friends for a long time.
In the end of the episode, Blair goes to Chuck's place and thanks Chuck for never sleeping with Serena and that no-one is better for her than he is. Blair tells Chuck that she will wait for him as long as it takes, if that is what he wants and Chuck says that good thing comes to those who wait. They almost kiss but they are interrupted by text from Dorota saying that Blair has to come home right away. She kisses Chuck on the cheek and leaves.
At home, Dorota says that she has good news and bad news. The good news is that Jean-Pierre called to get the patent for the Sage's dress and that he also has calls from buyers. The bad news is that Eleanor called too and she is coming home to fix the correm disaster. 
In the next episode Blair's mother comes to fix what has happend and says to Blair that her dark side has to go if she want continue to run her business. Later, Blair tells her mother that her dark side will help her and she will use her talent to run Waldorf design's. Blair also believe that her high school years will help her to evolve her career in Waldorf Design. 
Blair's new design's are huge hit and she holds her end of the pact and she's now ready to be with Chuck. Unfortunately, Chuck mission to take down Bart has failed because Lily turned her back on him and destroyed Bart's oil deal evidence. This causes Chuck to tell Blair that they can't be together anymore. Blair is hurt and she walks away.
Later, Chuck starts to spin out of control, but Blair comes to his rescue. At a Thanksgiving dinner hosted by Serena and Dan, Chuck finaly turns Lily against Bart and Chuck tells Blair that Lily will help them to take down Bart and asks Blair to go to war with him. She accepts.
In "The Revengers" Blair teams up with Sage, Ivy, Georgina, and Serena to take down Bart Bass once and for all. Meanwhile, Bart threatens Blair's safety and forces Chuck to leave the city for Moscow and to never come back. Chuck and Blair have a emotional farewell at the airport. Chuck gets on the plane and, later that night at Bart's party, it is revealed that Chuck's plane crashed with no communication, and Chuck is presumed dead. Luckily, Chuck shows up to Bart's party and reveals to the guests that his own father tried to kill him. In the end of the episode, Chuck and Bart are having an argument on the roof and Chuck hits Bart in the face after he pushes him three times and calls him "a boy." Bart is about to attack Chuck, but he moves out the the way and Bart falls from the roof. Blair runs to the roof and sees Bart hanging on the edge. Chuck refuses to help him, saying that everything he says is a lie. Bart falls to his death with only Chuck and Blair as witneses. As they run away from the scene, the screen says "To be continued" 
The finale episode starts right where "The Revengers" ended. Chuck and Blair try to figure out how can they get out of the Man of the Year party without being spotted by the police. Blair calls Georgina and asks her to look for Arthur, Chuck's limo driver. When she finds him, she convinces him to let Chuck and Blair hide the to the car's trunk to avoid detection by the police. Arthur drives them out of town to some hotel.
The next morning someone knocks on the door hotel door with a call of 'room service'. Blair hides, while Chuck opens the door and finds Jack stood on the other side, claiming to be there to help them. He found them using the tracker he installed on Chuck's limo back in the day when he hated him. Jack asks Chuck if he killed Bart to which Chuck replies no but he didnt help him either. He doesn't feel guilty but that doesn't mean he isn't. Blair says that his actions were self-defence. Bart asks if the camera's were on and Chuck says no because Bart was planning on killing him. He then asks if anyone else saw him on the roof, and Blair replies that it was just her.
Blair says that she'll never speak against him, even if they torture her. Jack has a different torture in mind resolve the situation, marraige. He explains that due to 'spousal priveliges', a wife cannot be forced to testify against her husband before leaving the two to discuss their options. At first, Chuck is opposed to the idea, saying that he doesn't want them to get married like this. Blair then reminds him of the things he said back in the Season Two. How if they got together then, they'd be boring and they definately aren't that now. Chuck says that he was a stupid child when he said those things and that a life with her could never be broring. He takes the ring from Blair's neck, gets down on one knee and asks her "Blair Cornelia Waldorf, will you marry me?" Blair tearfully says yes and puts the ring on her finger before they kiss.
When their in the court house trying to get married, Chuck says to Blair that he doesn't want to start the rest of their lives together this way. That Blair needs to be surrounded by the people she loves. Chuck enlists Jack and Georgina to get Eleanor, Cyrus, Dorota, Lily, Serena, Dan, Nate and Sage to the war museum where they announce their marraige. Two little girls spot them and send in a tip to GG, but when it's not posted they tip the police off about Chuck's location.
The wedding takes place in Bethesda Fountain in Central Park. When Cyrus is reading a poem, everybody hears a distant police siren. Blair asks if he can go a little faster, and Chuck says that maybe they can skip to the "I Do" part. Chuck changes his 'I do' to "Three words, eight letters", while Blair's 'I do' becomes "One word, three letters, yes!". Cyrus announces that Chuck can now kiss his bride and he pulls Blair into a hollywood kiss. They are then led off by police officers.
Chuck and Blair are let out of the police station because no one has any real evidenc that Chuck was even on the roof in the first place, and the only witness is now his wife. Everybody had gathered at the Waldorf's as they waited for them and Lily and Eleanor plan a wedding reception. 
When gossip girl's identity is revealed, Blair is furious at Dan claiming that "gossip girl ruined our lives." Chuck pulls her closer and says "Blair, is your life really ruined?", at which point Blair calms down. Dan tells them that gossip girl is dead and that now they can all really move on.
Five years into the future, Chuck and Blair are still happily married and have a three year old son named Henry Bass. The finale ends with Chuck and Blair holding hands while Henry sits in Eleanors lap, as they watch Serena and Dan get married in their house.
Style and appearance
Edit
Blair is considered the most glamorous and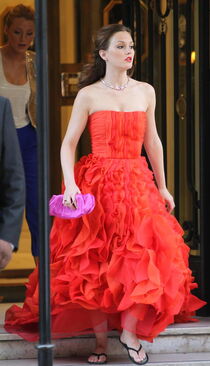 beautiful girl on the Upper East Side, behind Serena van der Woodsen. She is the daughter of a successful fashion designer,
Eleanor Waldorf
, which contributes to her notable fashion sense. In the novel series, she is described as a striking brunette, and never loses her position as Queen Bee, once Serena leaves for boarding school.. Amidst Season 2 of the TV series, she was voted the most beautiful female lead by readers of
Glamour.com
.
[1]
Additionally, her wardrobe continually garnered real-life acclaim during the early seasons.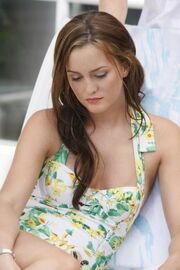 Though naturally beautiful, and much-admired, Blair, being an overachiever, enjoys making an effort to catch eyes, often wearing classic, Audrey Hepburn-inspired designer clothes. At times, she also feels challenged by her friend Serena, the similarly admired former Queen Bee. This sometimes creates a comical paranoia in Blair, leading to questions of perception versus reality. However, it is ultimately Blair who remains Queen Bee of the social scene, both during Serena's absence and after her return, in each version of
Gossip Girl
.
How to Dress like Blair
. She always had stylish and glamorous phones. In the first season her phone was LG enV, later in season two she used LG enV2. For next seasons Blair received Blackberry phones.
Personality
Edit
Despite leading a privileged and prominent lifestyle, Blair is generally characterized as a comical overachiever. In a review of the
Gossip Girl
novel series, Janet Malcolm of
The New Yorker
stated that unlike certain other Queen Bee characters, "Blair already has all the money and position anyone could want. She is pure naked striving, restlessly seeking an object, any object, and never knowing when enough is enough."
[2]
At times, Blair's ambition can lead her to embrace a haughty and scheming side. Generally speaking, Blair is ruled by her insecurities, despite a confident exterior, usually caused by her feeling inferior to Serena. These insecurities have resulted in Blair battling bulimia. It is revealed that if Serena had not been there for her, she never would have gotten better. While she's regarded as being extremely knowledgeable, Blair seldom leaves success to chance, or to her own talents, and usually works to sabotage her competition. Typically, Blair finds rivals in most females, including (and sometimes especially) Serena, her best friend. A result of this insecurity, Blair does not trust easily, and when she does is always tremendously hurt when she feels betrayed. However, despite her manipulative and often ruthless behavior, she is revealed to have a sensitive and loving nature as well.This side is revealed time and time again especially when Blair must come to the defense of someone she
cares about. Notably, this protective, warm side is evoked by Serena or Chuck. Blair also seldom gives up on those that she cares about, as evidenced when Chuck was grieving his father's death and she continually came to his aid, even when rebuffed. Lately,
Blair has begun to display a softer side with Dan, as shown when she refused to sabotage him during their time as interns at W (and, true to form, she was humiliated and enraged when she learned Dan had sabotaged her). Romantically speaking, Blair generally finds herself conflicted by her own expected desires and what she truly wants. With the exception of Chuck (and Dan in season 5), Blair almost always pursues relationships with men who offer a status symbol (Nate having been a handsome Archibald, or the royal titles that accompanied Lord Marcus or Prince Louis). Despite her social-climbing agenda within her love-life, Blair seems happiest when she has someone to spar with, and is usually at her best with a romantic partner who challenges her.
Relationships (Novel)
Edit
Relationships ( TV)
Edit
Blair: "Haven't you heard? I'm the crazy bitch around here."
Blair: "I'm sick of always looking like Darth Vader next to sunshine Barbie."
Blair: "Damn that mother-chucker!"
Blair: "Fashion is the most powerful art there is. It's design, movement, and architecture all in one. It just shows to the world who we are, and who we'd like to be. Just like your scarf suggests that you'd like to sell used cars!"
Blair: "Serena's been in jail for four hours, she's already served more time than Lindsay Lohan and Nicole Richie combined."
Blair: "My father left my mother for a 31- year old model. A male model."
Blair: "Chuck Bass, I love you. I love you so much it consumes me."
Blair (to Serena): "We're the Non-Judging Breakfast Club (herself, Serena, Nate, and Chuck). We're your best friends. You can tell us anything."
Blair: "We're Chuck and Blair. Blair and Chuck."
Blair (to Nate and Vanessa): "How nice! Half gallery, half boho coffee shop. But then again, unusual pairing seems to be the order of the day."
Blair: "I'm not a stop along the way! I'm a destination!"
Blair: "Lady Godiva, my only friend!"
Blair: "Are you crazy?! A hot life-guard is like Kleenex! Use once then throw away! You couldn't ask for a better rebound!"
Dan : "Google revenge and get BlairWaldorf.com"
Blair: "Destiny is for losers. It's just a stupid excuse to wait for things to happen instead of making them happen."
Blair: "Yours is not to wonder why, yours is to do or die."
Blair(to Chuck): "Of course I love you Chuck. I love you more and more everyday, if its even possible to love someone that much!"
Chuck: "Don't let anyone tell you you're not powerful, you're the most powerful woman I know."
Blair: "It's taking all the power I have to walk I away from you."  Chuck: "I know. But I need to let you go. And you need to let go." Blair:  "I will always love you." Chuck:  "I will always love you." (Blair walks away while Chuck watches)  GG: This just in: Chuck Bass, and Blair Waldorf, happily never after. They say parting is such sweet sorrow, but wouldn't it be nice, if just once, it didn't have to be?"
Blair(to Chuck): "Just because we can't be together, doesn't mean I won't love you."
Blair(to Chuck): "You know what, Bass? Today's your lucky day."
Blair: "The only thing lamer than dating Dan Humphrey is mourning Dan Humphrey!"
Nate: "So you still love her [Blair] huh?"    Chuck: "Can't imagine the day I won't."
Blair (to Jenny): "You can't make people love you, but you can make them fear you."
Blair(to Serena): "Its your destiny to be gossip-worthy."
Chuck: "I swear, I did not want you finding out about the dowry. The only people who knew were Nate, and Andrew Tyler. I just wanted you to be free. Who you choose to love with that freedom is up to you."
Blair (to Chuck): "Three words...eight letters... say it, and I'm yours."
Blair: I love food!
Blair (To Chuck): It takes more than even you to destroy Blair Waldorf.
Blair: Once men have tasted caviar it baffles me how they settle for catfish.
Chuck:  "Your world would be easier if I didn't come back."  Blair: "That's true. But it wouldn't be my world without you in it."
Columbia girl: We have an extra room in the apartment, maybe you'd like to move in with us? Blair: No. I don't live with the help. Oh, and you wanted to see a Blair Waldorf takedown? Well cross me again, and you'll experience one firsthand.

Blair (to Serena): "Here's my advice: Have a little faith. And if that doesn't work, a lot of mimosas."
This character has a Photo Gallery.
References
Edit
Blair's virginity was a major subject in the first season.
In the beginning of the pilot, when she is introduced, she attempts to lose it to her then boyfriend, Nate. Failing after being interrupted by Serena, she attempts to lose it again later in the episode, when Nate comes out with a secret. She tries again in The Wild Brunch, getting interrupted by Serena again.
In the sixth episode The Handmaiden's Tale, she sets an elaborate plan to lose her virginity by having Nate find her at the masquerade ball by midnight. Nate, after not even trying to find her, and confessing his love for Serena to Jenny while mistaking her for Serena, is sent home alone by Blair.
After breaking up with Nate, she heads to Victrola, and proceeds to strip on stage in the burlesque club, with Chuck and the patrons all watching. Chuck has his chauffeur take them home, and after asking her if she is sure, she loses her virginity to the Chuck Bass.
In Seventeen Candles Blair denies the previous night ever happening. She attempts to try to fix her relationship with Nate, but after failing she proceeds to take up with Chuck again.
In Hi Society Chuck has come to terms with the fact that he wants more than sex from Blair. After tricking Nate into attacking Serena's date, convinced that he's Blair's secret boyfriend, when in reality the secret boyfriend is Chuck.  After the scene Blair proceeds to lose her "virginity" to Nate. Serena buys a pregnancy test for Blair, who might be pregnant with Nate or Chucks child. Failing the pregnancy test and offends Chuck, who then sends an anonymous tip to Gossip Girl about him and Blair. After recieving the update from Gossip Girl, Jenny tells Nate about Blair and Chuck's secret affair. Nate then threatens Chuck, breaks off their friendship, and then breaks up with Blair. Blair then offers herself to Chuck, who no longer wants her. Blair is an on and off again bulimic, her binges usually based on excess stress or negligence from her mother, Eleanor.