Summary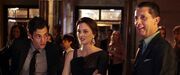 Blair
is ecstatic to land a prestiged internship at W Magazine, but the thrill quickly fades when she finds out that
Dan
has secured one of the coveted positions as well.
Chuck
may have finally met his match with
Russell Thorpe
– and his daughter
Raina
– back on the Upper East Side.
Nate
receives alarming news about his father's business prospects.
Plot
Blair and Dan compete for the top internship spot at W Magazine as Blair unpleasantly find out that the best of the best (like herself) are all present as interns. To get an edge, Blair and Dan decide to invite their favorite authors to the W party to impress their boss, Epperly. Blair contemplates sabotaging Dan, but changes her mind, deciding that she cares more about Dan than her dream job. Dan chooses to call off her author so that he'll win against Blair. At the W party, Blair finds out about Dan's sabotage and they get into a fight, with both getting fired.
Serena and Ben are reconnecting until Ben informs her that he'll be moving to Ithaca. Later, Serena finds out that Lily bribed Ben to stay away from the family, angering her daughter even further. Although Serena pleads with Ben not to leave, he tells her that he doesn't reciprocate her feelings, hurting Serena.
Damien is back on the Upper East Side and Eric is buying drugs from him. When Serena confronts him, they pretend to be a couple to throw her off. Later, Ben talks to Eric to try and dissuade him from drugs; as thanks, Rufus offers Ben his Brooklyn loft. Later Ben is seen threatening Damien to stay away from the van der Woodsens which leads Damien to call Eric to be his "friend."
When Nate finds out that his father is working for Russell Thorpe, he tells Chuck, who asks Raina to get The Captain fired. Raina and Chuck argue about business and pleasure, leading to their falling-out. The Captain gets upset with Nate for not believing in him and moves out, later conversing with Thorpe about how he handled the "conflict of interest." Chuck reconciles with Raina, although she's already sleeping with someone else.
As they are clearing out their things at the office, Blair confronts Dan again about his sabotage. He asks her why she didn't do the same to him. She admits that she cares about him too much to do that. When he hears how hard she worked to get the internship in the first place, he feels badly, realizing his mistake. He speaks to Epperly, giving Blair the credit for his author and taking all the blame for the fight. When Blair hears about this you see her repeatedly looking at her phone, wanting to call Dan.
Memorable Quotes
Epperly: As it turns out, your friend wasn't worthy.
Blair: Tell me about it. I've been trying to convince people for years. But just so you know, he was never really my friend.
---
Blair: My mother didn't get me W. She's a designer. She can't call in favors from a fashion magazine.
Dan: Well you don't get jobs like this without a connection.
Blair: Well I did. I practically stalked Stefano. I spent the night in his lobby waiting to meet him. After the police escorted me out of the building for the third time, I faxed a letter to every machine in the building.
Dan: That's like 200 fax machines.
Blair: 332.
---
Dramatis Personae
Starring
Recurring Stars
Music
"Beat of My Own Song" by Meme
"Changes" by Stars
"Fire in Your New Shoes" by Kaskade feat Martina of Dragonette
"Let Go" by Everest
"Lions in Cages" by Wolf Gang
"Monokini" by Nous Non Plus
Videos