The relationship between Dan and Vanessa, also known as Danessa, is the former relationship between Dan Humphrey and Vanessa Abrams.
Overview
Novel Series
Gossip Girl
===
Season 1 === Vanessa moves back to Brooklyn when Dan and Serena are still trying to figure out their feelings for each other. It became apparent that Vanessa and Dan have history, and they dated in the past. Vanessa seems to want Dan back, but they don't because he's dating Serena. Vanessa doesn't take it badly, after that Vanessa and Dan rekindle their old friendship and become friends again.In Roman Holiday,Vanessa announces to Dan that she entered his short story in a competition, and he is now going to get his story published in The New Yorker. At a cafe, Dan expresses his gratitude towards Vanessa and asks what she would like in return. She simply states that his annual christmas CD mix is more than enough.
Season 2
In Season 2, Dan and Vanessa are best friends. Vanessa spends a lot of time with the Humphrey family, sharing a close bond with all of them since they've all known her for such a long time. Dan and Vanessa hang out as friends. When Dan becomes friends with Nate, and Nate starts dating Vanessa they all become close. Vanessa also helps out Rufus Humphrey out a lot too, and in some of the episodes has a rivalry like relationship with Jenny since both of them have feelings for Nate.
Season 3
In Season 3, Dan dates Olivia Burke, and Vanessa dates Paul. While Dan and Vanessa are showing Olivia the "ultimate college experience", the three of them have a menage-a-trois that leads to Olivia seeing that Dan has feelings for Vanessa, so Dan and Olivia break up. After Serena gets in a car accident, Dan and Vanessa are at the hospital, and Dan tells Vanessa that he loves her. Finally in "The Lady Vanished", she admits that she loves him as well and that although she doesn't want to ruin her friendship with him, she wants to explore these feelings, starting with being "friends with benefits". The two finally begin their relationship.
Their relationship becomes problematic when Vanessa secretly applies to NYU's program for writers, Tisch, which Dan has also applied for. Despite their competition, Vanessa is chosen by the program and although this causes further issues between the two, Dan eventually expresses pride in Vanessa.
Later, however, their relationship hits another obstacle when Dan discovers that Vanessa has received an offer difficult to reject: to work in Haiti, assisting the disaster aid as well as filming for CNN. When Dan tells Vanessa he knows she's been offered this position, she insists on not going and staying in the city with Dan to work on their relationship. Dan eventually convinces Vanessa to accept the offer, however, when he informs her that it's a once in a lifetime opportunity. Thus, Vanessa says a tearful goodbye to Dan and leaves, the couple planning on engaging in a long-distance relationship. and Vanessa realizing their feelings for one another. She leaves promising Dan that she will come back.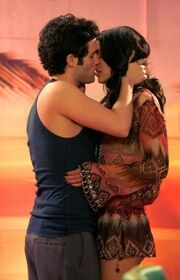 Season 4
After Georgina  has her baby, Milo Humphry, Dan starts to shut everyone out, but when Vanessa returns from Hati she is the first to find out about Milo. After Dan finds out that Milo isn't his biological and Georgina takes him to live with her parents Vanessa moves in with Dan. They start becoming distant as Dan becomes depressed and starts spending time with Serena showing his true feelings for her. However Dan and Vanessa have an intervention which furthers them as a couple.
History
Dan and Vanessa have been best friends since they were kids. Dan mentions that he's been telling Vanessa everything since he was 6 years old.