"
I love you, Dan Humphrey. Always have, always will.
"
The relationship between Dan and Serena, also known as Derena, is the friendship and romantic relationship between Serena van der Woodsen and Dan Humphrey. The two would ultimately marry in the series finale's flash-forward.
Overview
Dan and Serena have the longest running relationship on the show (besides Nate and Blair, who dated for years before the show began). They start dating in the pilot episode and continue on and off all the way to their wedding in the series finale.
TV Series
Dan and Serena have an on-and-off relationship throughout the seasons. They get married in the finale, surrounded by family and friends.
Season 1
In Pilot, Dan first sees Serena at the Grand Central Station.He gazes longingly at her, but she doesn't even notice him.At night, Dan decides to visit Serena at the Palace Hotel Bar. He accidentally bumps into her as she's running out, and the contents inside her purse get spilled. He helps her clean it up, but before he can return her cellphone to her she has already left. The next morning, Dan goes to the Palace Hotel to return the phone. Serena sees him there and tells Lily she has plans with Dan to see a concert, so she has an excuse not to go to the Kiss On The Lips Party. Dan is surprised when Serena decides to make the fake plans into an actual date. On their date, Dan introduces Rufus to Serena, as his band is performing. However, they don't make it to the concert as Jenny sends Dan an emergency text, because she is trapped with Chuck. Dan and Serena crash the party to rescue Jenny, and they both get threats from Chuck when they leave. They go home in a taxi, but Dan makes a fool of himself as he waves goodbye to Serena from the backseat, without even offering a goodnight kiss or hug. He and Serena go out again, but he leaves her after Blair tells him about Serena losing her virginity to Nate.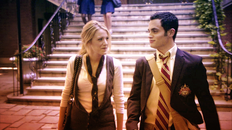 At the Ivy Mixer, Blair tells the whole school and Ivy scouts that Serena is a patient at the Ostroff Centre, presumably for alcoholism. Serena then goes on stage and lies to protect the real patient at the Centre: her brother. Dan is surprised by Serena's apparent problem, especially after it seems that she has been making a real effort to change from her old partying ways. However, Jenny reveals that Eric is the actual patient, which causes Dan to respect Serena for protecting her family. This event strengthens their relationship instead of weakening it like Blair had intended. Dan's childhood best friend Vanessa is clearly jealous of Serena and very much in love with Dan. Dan is oblivious to this. Despite Dan's clear preference for Serena, Serena feels jealous of how close Dan is with Vanessa, such as when Dan tells Vanessa that his mother came home, while Serena learns this news from Vanessa instead of Dan himself.In
Roman Holiday
, Serena gifts Dan an expensive watch for christmas. Dan can't accept the gift as he's not used to such expensive presents, so they both agree to set a price limit of $50. Vanessa helps Serena create a winter wonderland themed night for Dan in the art gallery, and Serena and Dan make love to each other. Dan's present for Serena is the original short story he wrote about her, which is titled "10-08-05", the first day that Dan met Serena. He also sneaks a christmas tree into Serena's hotel room with the help of Jenny and Lily.When he learns from the Gossip Girl site that Serena was seen buying pregnancy tests, Dan freaks out, knowing that
When Georgina Sparks arrives at the Upper East Side, intent on making Serena's life hell, she gets to know Dan behind Serena's back, pretending to be 'Sarah' and accidentally-on-purpose letting her dog run off its leash in the park, giving her an excuse to talk to Dan. 
It is later seen that Dan and Vanessa have taken "Sarah" under their wing as they believe she is new to the Upper East Side and doesn't know her way around.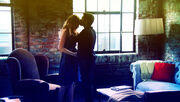 Eventually, Dan breaks up with Serena, because he believes that she has slept with someone else and he is tired of her hiding secrets from him. A few hours after he breaks up with Serena, he kisses Georgina, believing that she is a helpless girl who is running away from a psychotic ex-boyfriend. Soon thereafter, Serena tells Dan the truth, and he becomes convinced that Georgina is lying to him. He and Blair fool Georgina into thinking that Dan would like to meet up with her. The real purpose of the plan, though, is to get Georgina to meet with her parents and then get sent to a reform school. Dan and Serena rekindle their relationship. Then, at Lily's wedding, Dan decides to end the relationship entirely.
Season 2
Dan occupied himself by having continuous dates throughout the summer, with Serena still on his mind. Upon being fired from his summer job, he heads to the Hamptons upon realizing that he has been missing Serena. He hopes that by seeing Serena, he will realize that they made the right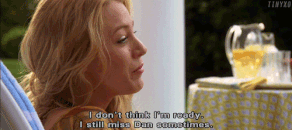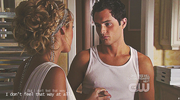 decision, and he can move on.

He arrives in the Hamptons at the annual White Party to find Serena and Nate Archibald in a passionate kiss. This reveals his true feelings for Serena as he shows obvious anger towards Serena's "cheating". Serena tries to convince him that she kissed Nate to make Nate's girlfriend (an older, married woman who was also paying him for being with her) jealous. Dan goes to leave, when he is confronted by a pair of girls he dated throughout the summer. The girls, having found out about one another's relationships with Dan, pour their drinks on Dan and leave. Having been caught out by Serena for his hypocrisy, Dan talks to her. They meet up later at the beach, where they spend the night together.

The following morning, Serena and Dan decide to halt any discussions on their relationships until they are back in the city. After some confusion between who is to take the train and who is to take the bus, they both end travelling back to the city on the bus. This creates tension between the two, and as Serena gets up to use the bus bathroom, she trips and falls on Dan. She pulls up Dan and the two go into the bathroom to fool around. The two decide to keep their rekindled relationship a secret until they are sure of themselves. Back in the city at Blair's "Welcome Back" party, Nate discovers the two in an embrace, revealing publicly that their relationship is "back on".
In
The Dark Night
during the city-wide blackout, Dan and Serena talk about their problems while they were both trapped in an elevator. After a long talk (and a bit of arguing), they realized they keep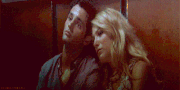 having the same fight and break up.

During their return to school, Serena and Dan are now friends until he meets a transfer student named Amanda Lasher. They share the same interests and have perfect chemistry. Blair attempts to keep them separate by making her one of her entourage so that Serena won't have to suffer seeing them together and so she also won't have to lose the competition of rebounding. Serena meets Amanda and nearly makes a fool out of herself. Blair forces Amanda to join them for lunch. Dan, thinking that Serena is trying to keep him away from Amanda, gets Serena, who was reasoning with Dan why it happened, irritated when he keepa implying that she was the one who forced her to lunch. Dan and Amanda's relationship goes public, much to Serena's irritation. Serena then invites Dan and Amanda to go out later that night, which turns into as disaster as Dan and Amanda continue to make her feel out of place. Isabel and Penelope, after witnessing Dan go out with Amanda that led to the relationship getting public, offers Serena several suitors. One is a Dalton lacrosse team captain. Serena's new suitor fails to impress Dan. Dan thinks that Serena used the lacrosse team to rub it into his face. Later on, Penelope ruins Amanda's hair with a little help from Chuck. Dan runs to Amanda's aid, who brushes him off, saying that she no longer wants to see him. Dan gets into an argument with Serena and leaves. The next day, he is shunned because of Serena's rise to Queen Bee status.

With Blair's situation with Chuck now out of hand, Serena gets Dan to help Blair and tells her that wearing him down would help her situation. Later on, he continues to help Blair by telling her that she should intercept him at home. With Blair desperate, he tells Blair that she should take a risk and say those '3 words, 8 letters' anyway. Serena confesses her feelings for Aaron, and Dan gives her his blessing to date other people.

Aaron and Serena start to date each other while Dan realizes that he still has feelings for Serena. Aaron has been concerned that Serena leans emotionally more on Dan than him. He asks her to come with him to Buenos Aires for Christmas. Serena asks Dan for his opinion, and he tells her to go. At Eleanor's wedding however, Dan confronts Serena about his feelings for her. Because she knows about her mother and Rufus' relationship, and because she has already said yes to Aaron, Serena turns Dan down and goes ahead with Aaron's trip. Serena breaks up with Aaron during the holiday and Dan and Serena meet with each other and they both decide there are better off back together. Dan soon learns he shares a sibling brother with Serena and becomes ridden with guilt when Rufus asks him to let Lily tell Serena the news.

Serena and Dan attempt to return to normal, but find this difficult with Lily and Rufus, who have decided to go public with their relationship.

Serena and Dan's relationship hits another dead end when things become too much for them to take. First their parents start dating, then they find out they shared a half brother together, and now the mess of the rumor.
Season 3
in Season 3, Dan and Serena don't have a proper relationship. In the last episode Dan wakes up with Serena in his bed. The viewers learn that the two did not sleep together but - after staying up until 4AM talking and drinking wine - they shared a kiss, that of which Serena classifies as them "falling into a comfortable path for one...or ten minutes". When Dan hears that Serena
breaks up with Nate, he calls her, possibly to say he had feelings for her. When she announces she won't be back to talk to him till September he appears to be .....very disappointed. When he later learns that Serena is going to Paris with Blair, he goes online to book a ticket.
Season 4
Georgina gives birth to Milo Humphrey.
In Belles de Jour, Serena tries to avoid the inevitable decision about which of her two long-time beaus, Dan or Nate, she should return to.
In
Double Identity
, Dan is preparing himself for Serena's return to New York.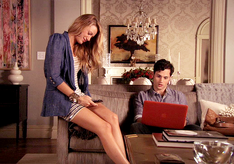 In Touch of Eva, Dan struggles with his feelings for Serena.
In Juliet Doesn't Live Here Anymore, Dan still has these feelings for Serena, feelings that will never go away.
Serena returns from Paris and, confronted with her old life, realises she has to choose. Whilst in Paris, it is revealed she had to make her choice between Dan and Nate. In rehab, she admits to Dan she had picked him.
When Dan later confronts Serena, they both realise they have just one more chance to be together. They have already been together three times and they need to be sure the 4th time is forever before getting together again. When Ben is released from prison, Dan helps him and Serena get together after realising he was wrong about his prejudices against him.
In
The Kids Stay in the Picture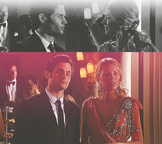 , Blair tells Dan that he has already found his Princess already - she then looks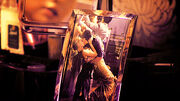 over at Serena who is further behind him - Dan looks to where Blair is glancing and on seeing Serena smiles.
Serena is mad at Dan when Charlie wears her dress and he doesn't remember Serena wore it at their first black tie event.
Season 5
In the beginning of the season, Dan and Serena start out as friends. Not much happens in their relationship until "Memoirs of an Invisible Dan" when Dan tells Serena and everyone else about his new book, where he based her on the character "Sabrina". Later, she finds out that the character Sabrina is like the old Serena.
Her character includes drinking, doing drugs, dating teachers, being shallow, partying, recklessness, and having random sex with random people. This makes her work suffer and she is angry that Dan portrayed her as that. Later on in the episode, Serena's boss, Jane, tells her that she needs to get Dan's book. Serena then fakes an apology to Dan and gets the film rights to the book. Dan later finds out that he cant give her the film rights because there are bigger companies that want the book. He tells Serena then she destroys his possible buyers. Dan finds out and confronts her then she tells Dan he was the love of her live. Dan then gives her the book rights.Then Jane wants to make the film different. She wants to make Dan an ass in the film. Serena won't go with that and destroys the film. Dan finds out Serena destroys his film and gets angry because he thinks that she just destroyed it for no reason. They are mad at each other for a time until Rufus and Lilly get them to talk to one another. They then become friends again. Serena thinks she makes to bad romance choices, so she looks herself up on gossip girl and finds out that Dan was the only good choice she made in romance. So she starts a fake affair with Dan to help Blair.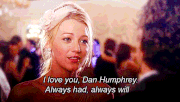 She soon realizes she´s in love with Dan and professes it to him. Blair and Dan start dating and Serena acts like she´s okay with it but she really isn't. Serena ends up getting in a fight with Blair because Serena knows that Blair still loves Chuck. Serena then tricks Dan in to believing that Blair chose Chuck and says that Blair has always loved Chuck and her (Serena) has always loved Dan. They then proceed to kiss and have sex. After Dan finds out Serena filmed it and that Serena tricked him in to believing Blair chose Chuck he gets angry and leaves.
Season 6
In Season 6, Dan tells Serena that the reason he didn't give her an answer to the "I love you" was due to the fact that it was easier to focus on his anger at Blair than to face the possibility of getting what he always wanted in the fear of losing it again. Dan and Serena throw their first Thanksgiving as a couple together, where Serena affirms her love for Dan by rejecting Steven and Blair, saying that Dan is her soul-mate and the only love of her life. Dan also solidifies his love by telling Georgina and Rufus that he had a plan all along to win and that there is no winning without Serena.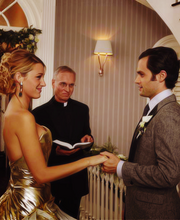 In the finale, Dan reveals to Serena their first meeting at a party, where Dan first spoke to her and fell madly in love. Dan realized at that party that he could never pull Serena out of her world but he couldn't give up either. He realized that the only way he could get Serena was to write himself into the UES by using a blog to create a legend: Gossip Girl. Dan then reveals his secret to all by giving Nate his final chapter to publish in the struggling Spectator. Everyone learns that the only purpose of Gossip Girl was the love Dan had for Serena. Serena is joyful at the revelation, stating that Dan, through Gossip Girl, wrote her and everyone else a seven-year love letter and made her realize that she belongs in the UES with Dan. 
Five years later, Dan and Serena get married, surrounded by their closest friends and family. 
Novel Series
In the novel series, Dan and Serena date for the first couple of books but break up pretty quickly. Psych! They actually have sex twenty times in the 5th book.
Memorable quotes
Season 1
Dan (To Serena) 1x13: "I love you. And not just because I thought you were pregnant. And not how you love some random guy who picks up your Lit papers and girl who likes your hair."
Dan (To Serena) 1x13: "There. that's why. Because I actually like it when you interrupt me, which is often, by the way. I love you because you make no apologies about being exactly who you are… Beautiful, smart, sexy as hell."
Serena (To Dan) 1x18: "When I told my mom not to go away with Rufus, I said it was because you and I were forever. I know I was right."
Serena (To Dan) 1x17: "It's just, nobody's ever looked at me the way you just did. In fact, I don't think they looked at me at all. You think I'm crazy, don't you?" 
Serena (To Dan) 1x18: "So that's it, then? "Have a good summer, see you back at school" ? " 
Serena (To Dan) 1x18: "He's gone. You can go now." / Dan (To Serena): "I know. But I don't want to." 
Season 2
Dan (To Serena) 2x1: I haven't been able to get you out of my head all summer. I was hoping when I saw you, I would know that we did the right thing. But I don't feel that way. I don't feel that way at all.
Serena (To Dan) 2x2: "Okay. I will see you back in the city. Fully clothed. With lots of people around. Okay?"
Dan (To Serena, Breaking up) 2x05: "Serena. I stil--" / Serena (To Dan): "I know, me too..." [Elevator closes] "I love you."
Dan (To Aaron about Serena): 2x11: "Yeah. I don't know about you but the Serena I know has long, flowing blonde hair, towers over both of us?"
Serena (To Dan) 2x12: "I just thought sex was meaningful to you, that's all."
Serena (To Dan) 2x15:  "I don't know, but we'll figure it out. Because I know no matter what I want to be with you."
Season 3
Serena (To Dan) 3x3: "If you want to date Georgina then more power to you. I would just check to make sure that there's not an ice pick under the bed."
Dan (To Nate about Serena) 3x13: "I dated Serena for over a year. And if you want to make things work you're going to have to be able come up for air. Which is really not her favorite thing to do."
Season 4
Dan (To Serena about Vanessa) 4x4: "I think the truth is she's not convinced that I'm over you. And I'm probably not."
Dan (To Rufus about Serena) 4x4: "But now, I mean, I just wonder if I made all the wrong choices. When Georgina showed up here that day—pregnant—I mean I was about to fly to Paris. I was going to tell Serena that I loved her and that I would do whatever it took to get her back."
Dan (To Serena) 4x8: "When we were together I would have done anything for you, so if this billionaire really cares about you then why can't he quit teaching and take you on a date? You're worth more than a guest lecturer fee. Everyone knows that. I just wish you did."
Dan (To Serena) 4x8: "I think I've waited enough. Tell me something Serena, how far down the list did you get before you called me to be your date? I mean obviously you couldn't come with Colin since he's your professor. And Nate was last week's beard so what does that make me, Bachelor #3?"
Serena (To Dan) 4x10: "Are we really doing this? Just running away together?"
Dan (To Serena) 4x10: "No, running away is what guilty people do. We're just getting out of the city for a few days to get some space and clear your head. It's a vacation."
Dan (To Lily about Serena) 4x10: "With all due respect, maybe I am only seeing the good in Serena, but I'm at least I'm looking at her and not at myself."
Serena (To Dan) 4x10: "Thank you for being the one person who believed in me. Even though it turns out you were wrong too."
Dan (To Serena) 4x10: "I wasn't wrong to believe in you. I still do. I always will."
Dan (To Serena) 4x11: "And you'll succeed. I know you will. And I know you better than anyone. Be safe."
Season 5
Serena (To Dan) 5x4: "No, not hurt. Mystified. In high school, you were the only one who saw me for who I really was. Or who I wanted to be. You helped me be somebody that I was more proud of."
Serena (To Dan) 5x5: "I know this may sound crazy or selfish, or like I'm living in the past or something.. but you were the love of my life , Dan. I don't know, I guess I just thought I was yours too."
Serena (To Dan) 5x13: "I love you, Dan Humphrey. Always have, always will."
Season 6
Dan (To Serena) 6x7: "You've always been the one."
History
Dan first spoke to Serena at a ninth grade birthday party, she was the only one who said hi to him, and he's never forgotten it since.
Ad blocker interference detected!
Wikia is a free-to-use site that makes money from advertising. We have a modified experience for viewers using ad blockers

Wikia is not accessible if you've made further modifications. Remove the custom ad blocker rule(s) and the page will load as expected.