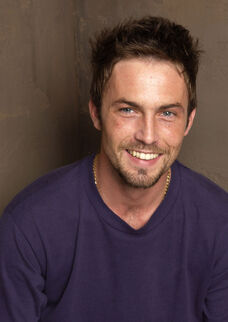 Desmond Harrington
 (born October 19, 1976) is an American actor. He is known for movies such as 
The Hole
(2001), 
Ghost Ship
 (2002), and 
Wrong Turn
 (2003). He joined the cast of the Showtime series 
Dexter
 in its third season, as Det. Joseph "Joey" Quinn and appeared in a couple of episodes of 
Gossip Girl as Jack Bass.
Background
Edit
Harrington was born in Savannah, Georgia and raised in the Bronx, New York.
His first role was Aulon in Luc Besson's The Messenger: The Story of Joan of Arc (1999). He soon afterward nabbed prominent roles in films such as The Hole (2001), Ghost Ship (2002), and Wrong Turn (2003). Harrington also appeared in the Steven Spielberg sci-fi drama Taken, in which he played Jesse Keys, an abductee of aliens.
In September 2008, he joined the cast of the Showtime TV show Dexter as Detective Joseph "Joey" Quinn.
In December 2008, he played a guest role on Gossip Girl playing Jack Bass. He reprised his role through guest appearances in seasons three, four, and five of the show.
In January 2012, it was reported that Harrington would return to Gossip Girl in the "last third of the season". In the same month, he made a guest appearance in the season three premiere of Justified, playing Fletcher "The Ice Pick" Nix. He also played a small role in The Dark Knight Rises (2012) as a police officer and had a role in the Nicolas Winding Refn 2016 thriller film The Neon Demon.
Filmography
Edit
| Movie | Role | Year | Notes |
| --- | --- | --- | --- |
| The Messenger: The Story of Joan of Arc | Aulon | 1999 | |
| Boiler Room | JT Marlin Trainee | 2000 | Uncredited |
| Massholes | Bing | 2000 | |
| Drop Back Ten | Spanks Voley | 2000 | |
| Riding in Cars with Boys | Bobby | 2001 | |
| The Hole | Mike Steel | 2001 | |
| My First Mister | Randy | 2001 | |
| Life Makes Sense If You're Famous | Jay | 2002 | |
| Ghost Ship | Jack Ferriman | 2002 | |
| We Were Soldiers | Sp4 Bill Beck | 2002 | |
| Wrong Turn | Chris Flynn | 2003 | |
| Love Object | Kenneth Winslow | 2003 | |
| 3-Way | Ralph Hagen | 2004 | |
| Taphephobia | Mike Hollister | 2006 | |
| Bottom's Up | Rusty #1 | 2006 | |
| Fort Pit | Mike Sokeletski | 2007 | |
| Exit Speed | Sam Cutter | 2008 | |
| TiMER | Dan the Man | 2009 | |
| Life Is Hot in Cracktown | Benny | 2009 | |
| Not Since You | Sam | 2009 | |
| The Dark Knight Rises | Police Officer on bridge | 2012 | |
| The Neon Demon | Jack | 2016 | |
Television
Edit
| Show | Role | Year(s) | Notes |
| --- | --- | --- | --- |
| Taken | Jesse Keys - Adult | 2002 | 3 episodes |
| Dragnet | Det. Jimmy McCarron/Det. Dexter McCarron | 2003-04 | 10 episodes |
| Law and Order: Criminal Intent | Tim Rainey | 2006 | Episode: "Vacancy" |
| Kidnapped | Kenneth Cantrell | 2006 | Episode: "Special Delivery" |
| Sons & Daughters | Wylie Blake | 2006-07 | 9 episodes |
| Rescue Me | Troy | 2007 | 7 episodes |
| Dexter | Det. Joseph Quinn | 2008-2013 | 72 episodes |
| Gossip Girl | Jack Bass | 2009-2012 | 11 episodes |
| Justified | Fletcher 'The Ice Pick' Nix | 2012 | Episode: "The Gunfighter" |
| Those Who Kill | Bronte | 2014 | 3 episodes |
| The Astronaut Wives Club | Alex Shephard | 2015 | 10 episodes |
| Limitless | Agent Casey Rooks | 2015 | 3 episodes |
| Shooter | Lon Scott | 2016-17 | 3 episodes |
| Sneaky Pete | Pete's Kidnapper | 2017 | Episode: "The Longest Day" |
| Brooklyn Nine-Nine | Officer Maldack | 2017 | Episode: "Moo Moo" |