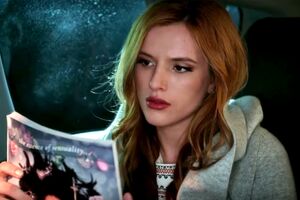 Have you heard about the new TV series from I. Marlene King, the producer of Pretty Little Liars?
It's called "Famous In Love" and it premiered 2 nights ago (April 18), on the channel Freeform. 
The great news is - you don't have to wait 10 weeks for 10 episodes to air! They released all of their Season 1 episodes on Freeform.com & related app, and on Hulu! You can binge them all! 
Freeform.com and app is free, but you need a cable subscription with a major US provider. Hulu costs $7.99/month with limited commercials, or $11.99/month without. There are also other methods you can watch the series on lots of websites!
Now - you're asking... why is this being posted on the Gossip Girl Wikia?
Thousands of people and critics have already binged the entire Season 1 and everyone is talking about it being "the next Gossip Girl" and "the Gossip Girl of 2017"! In fact, there is one article that says Famous In Love will make you nostalgic for Gossip Girl, and another one saying it IS modern day's Gossip Girl. 
Here's what the show is about:
Life changes for ordinary college student Paige after she auditions for a movie and lands a role in the big-budget blockbuster. The newfound fame turns Paige into Hollywood's new "it" girl, forcing her to navigate the highs and lows of celebrity life -- all while trying to balance her college workload. While Paige's new career offers her a chance to meet new people -- including attractive co-star Rainer, with whom she develops strong chemistry -- it strains her relationships with her current friends, especially Jake, who may want to be more than just friends. The drama series is based on a novel of the same name written by Rebecca Serle.
And a trailer for the series:
If you love it (and if you don't yet, you will once you see the premiere), please check out the Famous In Love Wikia, the new wiki dedicated to the show, brought to you by the head admin of the Gossip Girl Wiki!
We hope to see you there! And enjoy the show! <3
Where to Watch
United States
Free or with Subscription
Paid
---
Canada
Free or with Subscription
Paid
---
Worldwide
Paid
Other
There are, of course, other ways to watch the series that you may know of for free, but we can not recommend nor promote them for use.
Ad blocker interference detected!
Wikia is a free-to-use site that makes money from advertising. We have a modified experience for viewers using ad blockers

Wikia is not accessible if you've made further modifications. Remove the custom ad blocker rule(s) and the page will load as expected.