Harold Waldorf
Comments

5
463pages on
this wiki
Harold Waldorf is Blair Waldorf's father and Eleanor Waldorf's first husband. He ran off to Paris with one of Eleanor's male models, Roman Garrel.
Novel series
Edit
In the novels Harold is just talked about before the last book when he meets Blair with his two Cambodian twins that he adopted, Ping and Pong Waldorf.
Television series
Edit
Harold Waldorf is Blair's absent father, although he seems to care very much about her welfare. Blair clearly favors her father over her mother and idolizes him, wanting to go to his alma mater, Yale. Since he lives in Europe with his partner Roman, Blair rarely gets to see her father, and sometimes resents Roman for taking him away from her.
Harold is often seen during holidays such as Thanksgiving and Christmas, where he and Blair has traditions that she loves. Although she initially resents Roman's presence in them, she warms up to him and later seems to accept his place in her father's life.
Harold also appears in season two when it seems clear that Blair will be admitted to Yale University. When she is expelled for spreading rumors about Rachel Carr and Dan Humphrey, he fights for her and is disappointed when he finds out that she's been lying all along.
Nevertheless, he and Blair maintain a very strong bond. Harold is always the first to be there for Blair although he finds that difficult when she is always scheming and he is round the globe from her.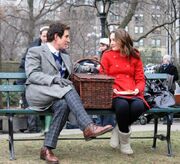 Ping and Pong (adopted twin children)
Television
Edit
Romantic Relationships
Edit
Novel Series
Edit
TV Series
Edit