Harold Waldorf is Blair Waldorf's father and Eleanor Waldorf's first husband. He ran off to Paris with one of Eleanor's male models, Roman Garrel.
Novel series
Edit
In the novels Harold is just talked about before the last book when he meets Blair with his two Cambodian twins that he adopted, Ping and Pong Waldorf.
Television series
Edit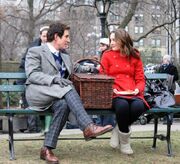 Ping and Pong (adopted twin children)
Television
Edit
Romantic Relationships
Edit
Novel Series
Edit
He is gay.
TV Series
Edit