Ivy League is an autobiography written by actress and former con artist Ivy Dickens. Detailing her life as she masqueraded as Charlotte "Charlie" Rhodes among the van der Woodsens and the rest of Manhattan's elite, Ivy League was adapted for the big screen by 2017.
Film adaption
Edit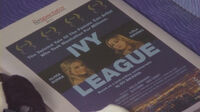 The film adaption of Ivy League is seen in the five-year time-jump in the series finale. Starring Olivia Burke and Lola Rhodes, the film more than likely has Olivia portraying Ivy (or possibly Serena) with Lola portraying herself.
Ad blocker interference detected!
Wikia is a free-to-use site that makes money from advertising. We have a modified experience for viewers using ad blockers

Wikia is not accessible if you've made further modifications. Remove the custom ad blocker rule(s) and the page will load as expected.