Jessica is a recurring character in the TV series Gossip Girl. She is portrayed by Alice Callahan.
Jessica is first introduced in The Empire Strikes Jack as a Columbia student who is an avid fan of Gossip Girl, and has a huge amount of respect for Blair Waldorf. She is generally portrayed as a ditzy girl, who Blair often looses her temper with.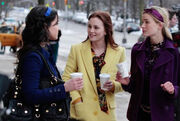 In Season 4, herself and Zoe become Blair's newest minions at Columbia. Along with
Penelope Shafai
and 
Juliet Sharp
, she is a member of the exclusive Hamilton House.
In the 5th Season of Gossip Girl, Jessica, along with Penelope and Kati Farkas were bridesmaids at Blair's royal wedding to Louis.
In Season 6's High Infidelity, Jessica and Kati were put in charge of stealing Poppy Lifton 's dresses, as they used the same design as Blair's.
Ad blocker interference detected!
Wikia is a free-to-use site that makes money from advertising. We have a modified experience for viewers using ad blockers

Wikia is not accessible if you've made further modifications. Remove the custom ad blocker rule(s) and the page will load as expected.