Juliet Cynthia Sharpe is a recurring character in the fourth season of Gossip Girl during which she served as the main antagonist. She appeared exclusively within the television adaption and is portrayed by Katie Cassidy.
Background
Juliet Sharp is introduced as a student at Columbia University and serves as the primary antagonist of the first half of season four. She had a personal vendetta against Serena van der Woodsen because she believed she was the reason her brother is in prison although it was later revealed that it was actually Lily.
Season 4
Juliet makes for first appearance in the season four opener Belles de Jour. She came from Connecticut, and is a "townie". Her older half-brother Ben Donovan taught as an English teacher at the same boarding school that Serena attended before the beginning of the series. He and Serena grew close, as she valued him as someone who took her seriously without attempts at exploiting her. They shared a mutual affection for each other, and while Serena attempted at spending the night with him, he declined her due to their teacher-student relationship. When Serena decided to come back to New York, Lily, unable to get Serena into any school in the city, overhears a rumor that Serena was sleeping with a teacher. She uses this to her advantage, not knowing how far it would go. Since Serena was a minor at the time, Ben was charged with statutory rape and transporting a minor across state lines. He is told that Serena stated an affidavit confirming everything. Lily pressured the DA's office into offering Ben a plea deal where he would stay off the registered sex offender list and the scandal would not be publicized so long as he serves time in prison.
Seeking revenge for destroying Ben's life, Ben and Juliet plan to ruin Serena's life. Juliet begins dating Nate to at first get close to Serena, but actually falls for him in the process. When Ben believes that Juliet has actually fallen for Nate, he has two guys attack Nate's dad The Captain in prison, where he was recently transferred to. When Juliet finds out, she breaks up with Nate to avoid him being hurt by what they're doing.
At the same time, Serena has met Juliet and Ben's cousin, a wealthy businessman/guest professor Colin Forrester and the two begin to date quietly. Colin financially supports Juliet, by giving her money for school and her rent.
When Juliet meets Vanessa, she realizes that she could be a good ally. When Juliet spreads the rumor about Serena having an STD, she uses Vanessa, who is worried that Dan caught it from her, to steal Serena's phone. When Vanessa leaves for a minute, Juliet uses the phone to email one of Serena's professors offering sex for grades. When Serena is confronted by the Dean, Juliet sneaks her phone into Vanessa's purse and successfully pins the email on her. In Juliet Doesn't Live Here Anymore, Vanessa finds pictures of Serena and Colin kissing on Juliet's computer when she breaks in. When Juliet returns home, she quickly deletes them, having just gotten a second chance with Nate. Vanessa steals the USB drive with the pictures, and later at the ballet, tells Juliet that Nate set her up and that at the end of the day, everyone will always choose Serena. They try to tell the Dean, but fail. Colin overhears what happened and cuts Juliet off completely, both financially and as family. After, they call Jenny to ask for help.
In The Witches of Bushwick, Juliet, Vanessa, and Jenny prepare to take down Serena. To cut her off from Blair, they have her tell Anne Archibald that Serena is interested in the Girls, Inc. foundation position Blair is interested in. It works, since Blair believes Serena is trying to steal her spotlight. To cut her off from Nate and Dan, they steal the SIM card from her phone to mess with them both. At Chuck's Saints and Sinners party, Juliet and Jenny dress as Serena and kiss Nate and Dan, who realize they were both played by Serena. They cut her off from her own well being. Unbeknownst to Jenny and Vanessa, Juliet drugs Serena and sends an email to the Dean stating her resignation from the school. When Lily and Eric find out, they believe Serena has once again gone off the rails and ran away.
In Gaslit, Serena awakens in a cheap motel in Queens, after being heavily drugged. She calls 911 and is taken to the hospital. Lily decides to let the hospital facilitate involuntary admission to the Ostroff Center for rehab. Serena is positive she didn't do drugs of any kind until a picture of Juliet dressed as Serena pops up on Gossip Girl doing drugs. Meanwhile, Juliet has told Vanessa that if she tells what they did, the whole Humphrey/Van Der Woodsen clan, including Dan, would cut her off. Vanessa then blames the whole thing on Jenny. When Jenny goes to Juliet's apartment, she finds she has left town. She goes to see Blair, where she tells her it was Juliet the whole time. At the same time, Juliet has told Ben what she did, including drugging her. Ben is shocked, and tells her that killing Serena was not part of the plan. Juliet shows no remorse and heads back to Connecticut.
Dan and Blair go on a witch hunt to find Juliet in The Townie. Meanwhile, Juliet returns to the city and confronts Serena. She confesses why she did what she did and Serena is confused, since she didn't ever sign an affidavit. She realizes it was Lily all along. Realizing she was mistaken about who was to blame, Juliet apologizes to everyone and leaves promising not to cause any more trouble.
Season Six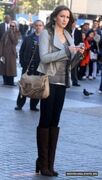 Juliet is seen walking around New York during Gossip Girl's identity reveal, and upon reading the blast, says "You have got to be kidding me."
Family
Romances
Episodes
Season 4
Season 6
Gallery
Ad blocker interference detected!
Wikia is a free-to-use site that makes money from advertising. We have a modified experience for viewers using ad blockers

Wikia is not accessible if you've made further modifications. Remove the custom ad blocker rule(s) and the page will load as expected.