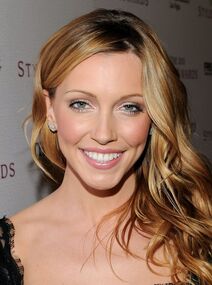 Katie Cassidy played Juliet Sharp in the hit CW TV Show Gossip Girl. She appeared in Season 4 and returned for the last episode of the show in season 6. She was in the movie Monte Carlo with her co-star Leighton Meester.She also portrayed The demon Ruby, a fictional character in the CW TV Show Supernatural. Katie Cassidy currently stars as Laurel Lance, original love interest and reccuring character, in the new CW hit show, Arrow. Prior to Gossip Girl, Cassidy had appeared in the 2006 holiday thriller remake "Black Chrsitmas" with Michelle Trachtenberg.
Ad blocker interference detected!
Wikia is a free-to-use site that makes money from advertising. We have a modified experience for viewers using ad blockers

Wikia is not accessible if you've made further modifications. Remove the custom ad blocker rule(s) and the page will load as expected.