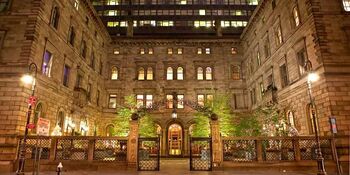 The New York Palace Hotel (also called the New York Palace or simply the Palace) is a grand luxury four-and-a-half star landmark hotel along Madison Avenue in Midtown Manhattan.
One of many real New York City landmarks used in Gossip Girl, the Palace is first introduced in the pilot as the new temporary residence of the van der Woodsens, as well as the home of Chuck Bass and his father, who owns the establishment. The hotel becomes one of the main settings for most of season one and occasionally during season two.
Ownership and residents
Edit
Ownership
Edit
Former resident(s)
Edit
Ad blocker interference detected!
Wikia is a free-to-use site that makes money from advertising. We have a modified experience for viewers using ad blockers

Wikia is not accessible if you've made further modifications. Remove the custom ad blocker rule(s) and the page will load as expected.