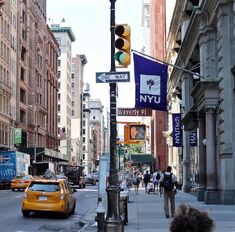 New York University (NYU) is a private college largely located in Greenwich Village in lower Manhattan but with divisions in Brooklyn and around the world.
Summary
After failing to achieve admission to Yale University, Blair ends up at NYU. Dan, unable to afford Yale, also ends up at NYU. Blair, Dan, Vanessa, Georgina, and Olivia all begin school in the third season.
However, Georgina leaves in Rufus Getting Married and Olivia leaves to film a movie in The Last Days of Disco Stick. In It's a Dad, Dad, Dad, Dad World, Blair is accepted to Columbia University after Chuck applies for her and leaves the school. At the end of season four, Vanessa also leaves the school to move to Barcelona, Spain.
Students
Ad blocker interference detected!
Wikia is a free-to-use site that makes money from advertising. We have a modified experience for viewers using ad blockers

Wikia is not accessible if you've made further modifications. Remove the custom ad blocker rule(s) and the page will load as expected.