Tyler Waldorf is the younger brother of Blair Waldorf in the Gossip Girl novel series. His character does not appear in the series' television adaption.
Not much is known about Tyler Waldorf. He isn't mentioned much, but it is apparent he looks up to his step-brother, Aaron Rose, and is a typical ten year old boy. He loves video games and has a girlfriend who idolizes Blair. It is mentioned that he once watched The Matrix with Aaron.
Fan gallery
Edit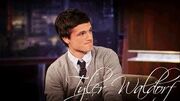 Ad blocker interference detected!
Wikia is a free-to-use site that makes money from advertising. We have a modified experience for viewers using ad blockers

Wikia is not accessible if you've made further modifications. Remove the custom ad blocker rule(s) and the page will load as expected.