Gossip Girl might be on its last season, but its producers have a new project up their sleeves!
TV Line says, "Take Season 1-era Blair Waldorf on her worst day and cross her with a chupacabra, and you've got a sense of what the creative minds behind Gossip Girl and Twilight have in store for The CW."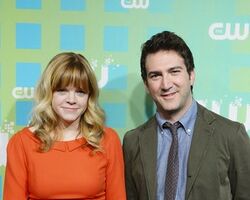 Gossip Girl EPs Josh Schwartz and Stephanie Savage are going to co-executive produce along with Brett Easton Ellis (American Psycho), who'll also write the pilot. Twilight director Catherine Hardwicke will serve as executive consultant.
The show is called Copeland Prep, and it will be a drama about a private high school so competitive it turns its students into actual monsters. Sounds pretty interesting!
Do you think this combination of people will create a good enough show to solve your Gossip Girl fix once this season ends?
Source: TV Line
---
---
Ad blocker interference detected!
Wikia is a free-to-use site that makes money from advertising. We have a modified experience for viewers using ad blockers

Wikia is not accessible if you've made further modifications. Remove the custom ad blocker rule(s) and the page will load as expected.