Hello Upper East Siders!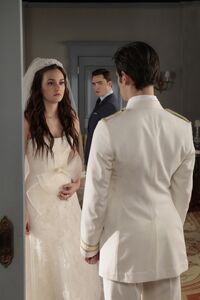 Recently Blair Waldorfs wedding pictures have come out, but a lot of questions are still yet to be answered! Who is she looking at while up at the altar? What is going on with Serena's dress and hairdo? Will Blair actually go through with the wedding and say her vows? And what's going on with Georgina and Chuck?
Also, Blair Waldorf's bachelorette party photos are out. Just how wild did she get? In most of the pictures it looks like she's just having a good time with friends, but it also seems like she has a little run-in with Chuck. What's that about?
Got any ideas? Post them below!
Source: TVline.com
Source: Tvline.com
Ad blocker interference detected!
Wikia is a free-to-use site that makes money from advertising. We have a modified experience for viewers using ad blockers

Wikia is not accessible if you've made further modifications. Remove the custom ad blocker rule(s) and the page will load as expected.